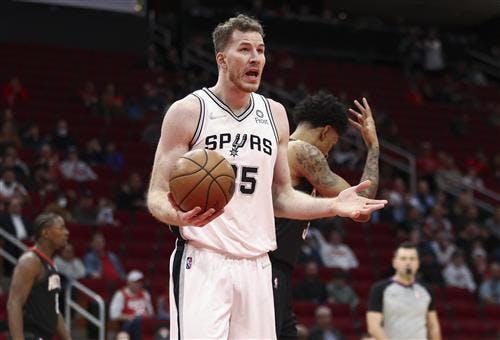 Consider this a Public Service Announcement: do not try to predict what the Brooklyn Nets are going to do this NBA offseason.
It's not worth it. The Nets have been the most turbulent team in the NBA this offseason. First, reports surfaced that they wanted to trade Kyrie Irving. Given how unreliable he's been in recent years, that's fair enough.
Unfortunately for the organization, those reports were followed by a Kevin Durant trade request. Whether that's due to the team's alleged interest in moving his friend, nobody can be sure.
Either way, everything is up in the air now. Will the Nets be contending in 2022-23? Perhaps. Will they be rebuilding? It's possible. Will they be somewhere in between? Who knows.
Assuming they want to at least remain competitive, landing a high-end defensive big would be a smart decision.
Here's a deal that has them acquiring San Antonio Spurs big man Jakob Poeltl.
San Antonio Spurs Receive: G Seth Curry, F/C Day'Ron Sharpe, 2028 First-Round Pick (Swap – BKN)
Brooklyn Nets Receive: C Jakob Poeltl
In stark contrast, there are no questions about what the San Antonio Spurs will be doing in 2022-23. In trading Dejounte Murray for three first-round picks, they announced their intentions in no uncertain terms.