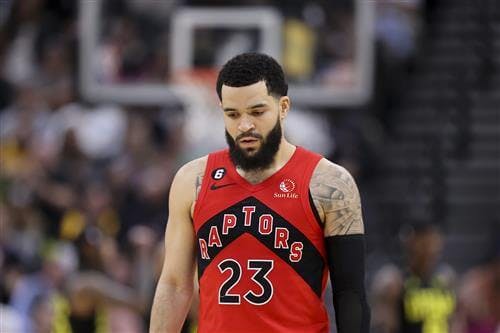 What do you do when it all falls apart? NBA teams need to make the same decisions.
You can put your head down and admit defeat. Some people will. Alternatively, you can pick up the pieces and start over.
Sometimes, a contender will fall apart in the blink of an eye. From there, it's up to the organization to decide whether they're starting over or forging ahead.
That's the situation the Brooklyn Nets find themselves in. Kyrie Irving requested a trade, and now, he's a Dallas Maverick. The Nets could trade Kevin Durant and start from scratch, or, they could land him a new co-star.
The Nets are frantically working on expanding the Irving trade before it's official. They could get it done by going through the Raptors to get who they want.
Here's a deal that has them going the latter route by acquiring Fred VanVleet of the Toronto Raptors.
Toronto Raptors Receive: G Spencer Dinwiddie, F/C Day'Ron Sharpe, 2027 First-Round Pick (PHI via BKN)
Brooklyn Nets Receive: G Fred VanVleet