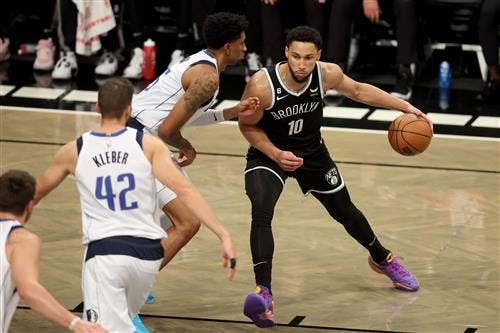 A lot is going on surrounding the Brooklyn Nets beyond the need to worry about Ben Simmons trade talks. However, if at some point it reaches that point, the trade value for the former NBA All-Star may be at an all-time low.
Simmons has yet to show that he's the same elite all-around defender that he was prior to sitting out with the Philadelphia 76ers. His trade value has naturally been impacted.
Simmons is averaging just 6.2 points, 6.5 rebounds, and 7.3 assists while shooting 44.1 percent from the floor in six performances this season. He's continued to be reluctant with finishing at the rim — likely due to a lack of desire to be sent to the free throw line.
While Simmons still has to prove that he's back to prior form, perhaps a team could look to capitalize on his lowered trade value in order to execute a buy-low trade?
The Indiana Pacers were among the teams that held trade interest in Simmons before he was dealt to the Nets in exchange for James Harden. If the opportunity presented itself, there appears to be the potential for a deal to be made.
Could the Pacers acquire him in another bid to avoid the league's bottom?
Brooklyn Nets Receive: C Myles Turner, G/F Buddy Hield
Indiana Pacers Receive: G/F Ben Simmons
Some people will tell you that top-end talent is all that matters in the NBA. Others will insist that fit trumps talent.
This deal would put each theory to the test. After all, Simmons is remarkably talented, but to be frank, it's difficult to fit him with just about anyone. His absolute unwillingness to shoot the basketball makes him a challenging piece to work into any team's puzzle.