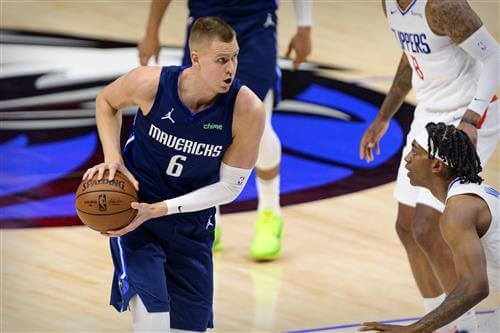 Knicks fans cried in misery when he was drafted 4th overall in 2015, but Kristaps Porzingis turned out to be a really solid player for New York… only for 2.5 seasons though. In just his third season in the league, Porzingis was the star of the Knicks and was named to the NBA All-Star game in 2018, but then he suffered a gruesome knee injury on February 6, 2018 that resulted in him tearing his ACL in his left knee.
The Latvian big man did not play at all during the 2018-19 season as he recovered from this injury, but during this season, he and the Knicks continued to not see eye-to-eye and as a result, he was traded to the Dallas Mavericks.
In two seasons now with the Mavs, Porzingis' stats suggest that he has been good, averaging 20.3 points, 9.2 rebounds and shooting 36.2% from three-point range in 100 regular season games, but Kristaps Porzingis has been a very underwhelming presence when Dallas has needed him the most. This has been key in his name surfacing in NBA trade rumors at times.
Standing about 7'3", Porzingis should be a beast in the paint that is unstoppable to stop, but that has not been the case and he seems to just hang around on the perimeter. With him and Luka Doncic, the Mavericks should be a really strong team in the Western Conference, but that has not been the case over the last two years, as they have lost in the first-round of the playoffs in back-to-back years now.
Kristaps Porzingis is starting to be viewed as a liability in Dallas and while they did look to gauge interest in him league-wide in trade talks this offseason, very few teams showed interest because the former All-Star big man is still owed $101.5M over the next three seasons, with the final year of his contract containing a $36M player option.
Given that they added a little bit more talent to their roster in the offseason, it seems like the Mavericks are going to give their Doncic-Porzingis duo one last chance to do something, but this doesn't mean they will not look to trade Kristaps Porzingis at some point during the 2021-22 season.
The Golden State Warriors are going to be hunting for another title with their team fully-healthy again and they did show some interest in Porzingis when he was made available in trade talks, so could they potentially look to pursue him near the trade deadline?
Given his size and ability to knock down shots from the perimeter, he seems like the perfect fit for the Warriors, but there could be some complications with a potential trade due to financial restrictions. Now, let's take a look at a proposed trade between the Dallas Mavericks and Golden State Warriors created by Bleacher Report's NBA Staff that would send Kristaps Porzingis and some other Mavs players to the Warriors for two key talents.
Golden State Warriors Receive: F Kristaps Porzingis, F Dorian Finney-Smith, G Jalen Brunson, C Willie Cauley-Stein
Dallas Mavericks Receive: F Andrew Wiggins, C James Wiseman
Now this would surely be an intriguing situation to sort out in the NBA, especially since the Dallas Mavericks would be forfeiting a lot of assets to get Andrew Wiggins and James Wiseman in return. Wiggins and Wiseman are both young talents on the Warriors' roster who the team seems to be pretty high on, hence why they did not move them in the offseason.
Drafted second overall last year, James Wiseman has a lot of potential as a versatile and athletic center in today's NBA, but he is still very raw as a player. Seeing as he really did not get any time to develop in college and pretty much went straight from high school to the NBA at just 19-years-old, he still has a lot of growing up and maturing to do before he reaches his full potential, but when he does, Wiseman could realistically be an All-Star one day.
Dallas does have a lot of centers on their roster right now, but if they moved Porzingis and Cauley-Stein in this deal with the Warriors, they would be left with just Moses Brown, Dwight Powell and Boban Marjanovic, which is why they would likely want James Wiseman in return.
The Warriors have gone "back to their roots" in a sense since Curry, Thompson and Green are the focal points of their championship roster once again, much like they were during their first title run during the 2014-15 season. All three All-Stars are a lot older now and more experienced, but this team could still use all the talent they can get.