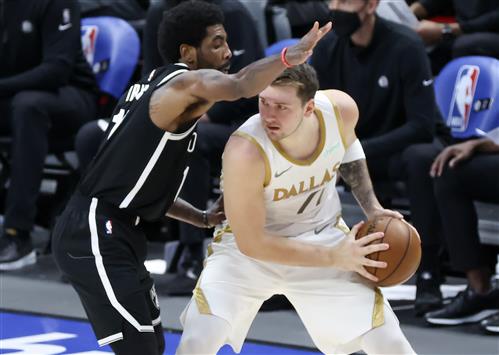 If the Brooklyn Nets trade Kyrie Irving for anything less than a fellow superstar this NBA offseason, don't expect any block parties in the borough.
Still, crazier things have happened. The Nets could easily have grown tired of the various issues that have kept Irving off the basketball court over the years. He has firmly established himself as a risk at this stage in his career.
With Ben Simmons already on the roster, the Nets may prefer some safety. Granted, one might counter that the smarter move is to trade Simmons. That's fair, but Irving may command more value on the open market. For all of his issues off the floor, he doesn't have the same on-court warts as Simmons.
It's unlikely. Nets fans should rest knowing they'll likely trot out Kevin Durant, Irving, and Simmons at the beginning of 2022-23. Whether they ought to rest easy with that knowledge, or not, is subjective.
Meanwhile, it's hard to know what the Mavericks might do this offseason. After all, they're due for a game seven with the Phoenix Suns this upcoming Sunday.
If they lose and feel they need more playmaking around Luka Doncic, here's a trade that lands them Irving.
Brooklyn Nets Receive: G Spencer Dinwiddie, G/F Tim Hardaway Jr., 2026 First-Round Pick (DAL), 2028 First-Round Pick (DAL)
Dallas Mavericks Receive: G Kyrie Irving
When the Brooklyn Nets traded for James Harden, they sent the Rockets a combined seven first-round picks and pick swaps.