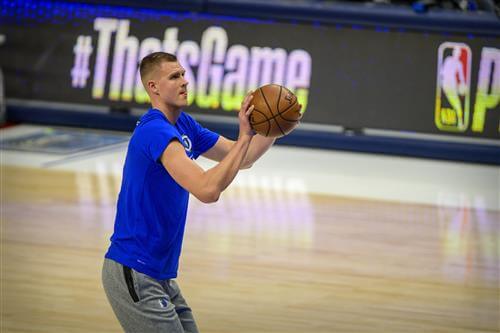 The Brooklyn Nets entered the postseason as the favorites to win an NBA Championship but there were some extreme circumstances. Brooklyn dealt with some injuries and ran into a team that put it all together at the right time. Now, the so-called super team is home and focused on the offseason.
Kevin Durant was a one-man army during the postseason. Both Kyrie Irving and James Harden were dealing with injuries that forced them to miss some time. Even when Harden returned, he did not look like himself. Joe Harris struggled and the bench play for the Nets was a non-factor.
Add all of this together and it is a disappointing finish for a team that was expected to win a title. The Milwaukee Bucks put it together and won a game seven in Brooklyn. The Nets have made some huge moves and this could be another.
Kristaps Porzingis has been vocal since entering the league. The newest rumor is that he is unhappy with being below Luka Doncic in Dallas. This is unavoidable given the player that Doncic is. He is one of the best players in the league and will continue to improve.
The Mavericks originally added Porzingis in hopes of becoming a staple in the postseason. They have not made it in back-to-back years and were the fifth seed this season, both have ended with first-round losses to the Los Angeles Clippers.
The top priority for the Mavericks in free agency will reportedly be Kyle Lowry but they are far from the only team who will be pursuing. If he signs with the New Orleans Pelicans, Miami Heat, or a different team, Dallas will need to turn to alternative options. This is where the Nets could be of service.
Dallas could want to move Porzingis if he is truly unhappy with the situation. Here is a deal that could help both sides in the offseason.
Brooklyn Nets Receive: C Kristaps Porzingis, F Maxi Kleber
Dallas Mavericks Receive: G Spencer Dinwidde (sign-and-trade), G/F Joe Harris, C DeAndre Jordan, 2022 second-round pick, 2025 second-round pick (via GSW)
Kristaps Porzingis has been a headache and that could continue in Dallas. This could persuade the front office to make another blockbuster deal involving the big man.
Porzingis and Maxi Kleber would be going to Nets in this deal and he would add to the star-power already on the roster with Kevin Durant, James Harden, and Kyrie Irving. This would be a way to capitalize on the departure of Spencer Dinwiddie without losing that salary cap space.
Porzingis still has a ton of value around him despite some injury woes. Dinwiddie will certainly be part of the deal. He has been the Nets' biggest trade piece recently mentioned in NBA trade rumors as a sign-and-trade option. If the Mavericks miss out on Kyle Lowry, he could be an option to pursue.
Joe Harris, who was nonexistent during the postseason, and DeAndre Jordan would be going to Dallas, along with some draft capital. The Mavericks would continue to hold onto a sharpshooter and would take on Jordan for salary purpose.
This NBA trade scenario would unravel quickly if Spencer Dinwiddie were to decide to sign with a team other than the Dallas Mavericks in NBA free agency. He is a player the team has their eyes on and they have the money to spend to get it done.
Let's take a closer look and see how this NBA trade scenario centered around Kristaps Porzingis would benefit both the Brooklyn Nets and Dallas Mavericks.