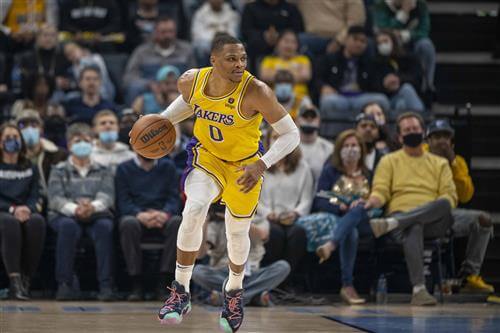 The Los Angeles and Brooklyn Nets were thought of by some analysts as being the top threats to win the NBA Finals entering the 2021-22 season. Neither team came close to doing so.
Not only did the Lakers not even come close to reaching the NBA Finals, but they also didn't even come close to making the playoffs altogether. The San Antonio Spurs out-edged the Lakers for the final spot in the play-in tournament in the Western Conference.
The poor fit of Russell Westbrook with the Lakers' roster proved to be too challenging to overcome. He was thought of as a potential option to enhance their team by being a secondary creator next to LeBron James but instead proved to be detrimental.
Brooklyn ended up getting swept by the Boston Celtics in the first round of the playoffs after managing to get through the play-in tournament. Between Kevin Durant's injury, Kyrie Irving's inconsistent availability, James Harden's trade request, and Ben Simmons not playing in a single game after the trade deadline, there were a lot of controversies.
Ahead of the 2022 NBA Draft, there was reporting stating that Irving and the Nets have reached an 'impasse' in contract negotiations. The reluctance to offer a long-term deal has been well-known in Brooklyn and now, the All-Star guard will evaluate his options with the Lakers, Brooklyn Nets, and LA Clippers being considered among landing spots.
Given the difficulty navigating hard cap scenarios in a sign-and-trade, Irving could need to exercise his final-year player option with the intent of facilitating a trade. One team that has a readily available star replacement is the Los Angeles Lakers.
Let's look at a potential NBA trade scenario that would swap Kyrie Irving and Russell Westbrook.
Brooklyn Nets Receive: G Russell Westbrook, 2027 First-Round Pick
Los Angeles Lakers Receive: G Kyrie Irving, G Patty Mills
Reunions are always fun to think about, especially with the NBA. Here, former superstar teammates turned arch-rivals turned neutral acquaintances would each join forces again.