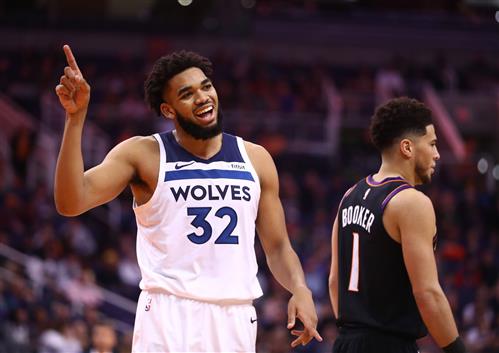 There are some rebuilding teams that could decide to blow it up a bit this NBA offseason. This trade features two of them but only one would be sending away a star. The Minnesota Timberwolves have plenty of starpower to send away if they find the right trade partner.
It would be interesting to see the Sacramento Kings as that partner. The Kings do not have much to build around other than De'Aaron Fox. They are a franchise that has struggled to find success as they have not made the postseason since 2006.
The Kings have been near the bottom of the Western Conference for years now and that is not going to change until they begin to load up on stars in the lineup. This is a chance for the team to get an impact performer down low.
When discussing the Timberwolves, Karl-Anthony Towns is the only impact big man that could be moved. He is the franchise player in Minnesota but the two sides could be coming to a split soon. This has been rumored for a couple years now but nothing has happened.
Instead, the Timberwolves brought D'Angelo Russell to town and the team has still struggled. Minnesota has made the postseason just once with Towns on the roster and it is not looking like they will be in the mix this year. There are plenty of blockbuster opportunities for Minnesota and we could see one here.
This would be a bit of a surprise deal but it is one that would change the look of two rebuilding franchises. Here is what this potential deal between the Timberwolves and Kings might look like this offseason.
Karl-Anthony Towns is clearly the centerpiece of this deal going to Sacramento. It is a chance for the Kings to get De'Aaron Fox another star in the lineup to take the team to another level.
The Kings have seen many players in NBA trade rumors this offseason and they would be able to send a couple away here. Buddy Hield was almost dealt to the Los Angeles Lakers but the deal didn't quite go through as the focus shifted to acquiring Russell Westbrook.