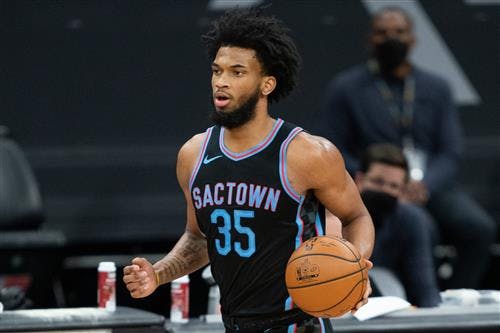 The Sacramento Kings have been featured in plenty of NBA trade rumors over the last year. Nothing has been done to this point and it will be interesting to see if they decide to make any move leading up to the trade deadline.
If they do, Marvin Bagley III could be the first one traded — something that almost happened to Buddy Hield in the offseason before a deal with the Los Angeles Lakers fell apart. He was the alleged disgruntled player but remained in Sacramento as they moved him back into the starting lineup.
As for Bagley, his days could be numbered. He was not featured in the rotation to begin the season and this is extremely telling. He's worked his way back into some minutes after the firing of Luke Walton, but is he there for the long-haul?
The Kings have not made the postseason in 15 years and this could cause them to continue to reshape the roster. There are plenty of young players that could be moved to see what the value is.
The Phoenix Suns might be involved in some moves as well. This is a team that was two wins away from an NBA Championship last year. They ran through the Western Conference but were taken down by the Milwaukee Bucks in the finals.
In the offseason, Chris Paul signed a new four-year contract and this will keep the Suns in the hunt moving forward. Now, they could look to move Deandre Ayton after not signing him to a new deal. If that is the case, they could look for a replacement right away.
A deal featuring Marvin Bagley III would be an interesting trade between two teams heading in very different directions — the Phoenix Suns and Sacramento Kings. Let's take a closer look and see how this trade might happen over the first half of the season.
Phoenix Suns Receive: F/C Marvin Bagley III, F Robert Woodard
Sacramento Kings Receive: C/F Jalen Smith, F Dario Saric, 2022 Second Round Pick
Marvin Bagley III was the No. 2 overall pick directly behind Deandre Ayton in the 2021 NBA Draft. What if just three years later, both players are on the Phoenix Suns together?
Any trade featuring Bagley would offer a fresh start that is necessary at this point of his career. His tenure with the Sacramento Kings has been riddled with injuries and not seeing eye-to-eye with the franchise.