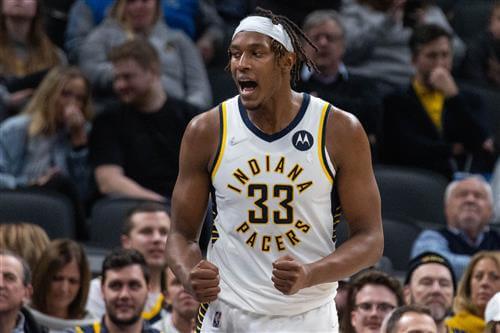 Making the NBA playoffs for the first time since 2013 last season, the New York Knicks were one of the feel-good stories of the 2020-21 season. The Knicks began the 2021-22 season 5-1, but "bing-bong" seems like so long ago now, as New York is only 17-20.
Defense has really been a problem for the Knicks this season, which is extremely surprising given that they were the third highest-rated defense in the league last season and basically return their entire roster.
In fact, the Knicks upgraded their roster in the offseason by adding the likes of Kemba Walker and Evan Fournier. This team's offense currently sits ranked 22nd in the league in offensive rating and while Fournier has been productive at times, Walker has been removed from New York's rotation because of his bad play.
Everything that could go wrong for the Knicks this season is going wrong and now, this team seems pressed to make some kind of change ahead of the NBA trade deadline. Nobody is really playing well for this team almost halfway through December, which is definitely concerning for the Knicks' playoff chances this season.
Adding another backcourt weapon in place of Kemba Walker could be something this organization shows interest in should the right trade present itself, but fixing things in their frontcourt could be what this front-office looks to do.
Mitchell Robinson, Nerlens Noel, and Taj Gibson played well last season, but the root of the Knicks problems both defensive and offensive start with the play from their centers. All three of these guys have been inconsistent this season, which is why going out and targeting someone like Myles Turner could be a favorable move for this franchise.
The Indiana Pacers appear primed to be heading toward a rebuild right now and while they are in the Eastern Conference with the New York Knicks, trading Myles Turner is something that seems more like a reality than a fantasy at this point. His name has been brought up time and time again in trade talks and now, it seems like these "rumors" could be coming true.
According to Ian Begley of SNY.com, there are some within the Knicks' front office that like the idea of adding Turner and he could be a massive upgrade for their frontcourt. What would New York have to give up through in order to have a shot at acquiring Myles Turner this season?
Let's take a look at a trade scenario that not only involves the Indiana Pacers and Myles Turner but the New York Knicks and the Oklahoma City Thunder as well.
Indiana Pacers Receive: G Kemba Walker, C Mitchell Robinson, NYK 2024 1st Round Pick (Top-10 Protected, then Top-5 Protected in 2025, if not conveyed, then NYK 2025 and 2026 2nd Round Picks to IND)
New York Knicks Receive: C Myles Turner, F Kenrich Williams
Oklahoma City Thunder Receive: F Kevin Knox II, NYK 2022 2nd Round Pick (Top-45 Protected)
Trying to trade for Myles Turner would not be an easy thing for the New York Knicks to do. They are well under the tax line for this season and have moveable contracts, but the Indiana Pacers have not really said what they would want for any of their core players in a trade.
One can assume that they would want young talents and draft picks, but the Knicks may not want to trade away Obi Toppin or Immanuel Quickley, their two best youthful talents. However, they could be willing to give up Mitchell Robinson, who is in the final year of his contract.
Now in his fourth season with the New York Knicks, Mitchell Robinson has averaged 7.5 points, 8.1 rebounds, 1.7 blocks and has shot 76.5% from the floor.