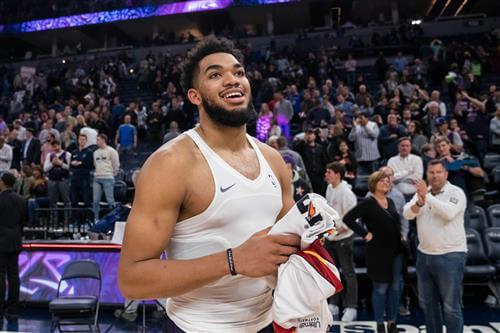 It has been an extremely productive NBA offseason for the Miami Heat. It is no surprise that Pay Riley has been aggressive after watching his team get swept out of the first round this season. The Heat have made the appropriate moves in free agency and now could have their sights set on the trade market.
A trade partner to watch is the Minnesota Timberwolves. This is a franchise that has been near the bottom of the Western Conference for years now. They have attempted to bring in some big names but that has not generated into victories. The Timberwolves have to make a decision moving forward.
Will Karl-Anthony Towns be used as a trade piece or will he continue to be the centerpiece player? Minnesota has made the postseason just once with Towns on the roster. This is going to determine how the front office builds the roster moving forward.
Miami has been in win-now mode with Jimmy Butler taking over as the focal point of the team. The front office has been aggressive in free agency and it began with a deal to acquire Kyle Lowry.
This was the point guard that the Heat have been waiting for. Duncan Robinson signed a five-year deal worth $90 million and the core is back in Miami. Moving forward, the Heat could continue to make those big moves that we have seen in the past in order to win a championship.
If the Heat want to upgrade the frontcourt a bit, this is a deal they could look into with the Timberwolves. Here is what that deal between the two sides could look like in the offseason.
Miami Heat Receive: C Karl-Anthony Towns
Minnesota Timberwolves Receive: C Bam Adebayo, G Tyler Herro, 2025 first-round pick, 2027 first-round pick
Kyle Lowry is in place and so is a contract extension for Jimmy Butler. The time is now for the Miami Heat and pursuing a star with the skill-set of Karl-Anthony Towns would make a lot of sense.
Towns would not be a cheap option but the Heat could put together the right package. Of course, there are also some concerns with how Butler and Towns left things off during the end of their time together with the Minnesota Timberwolves.
A potential return for the Timberwolves would have to begin with Bam Adebayo. This would be the replacement big man down low for Minnesota. There would be a shift in identity for the team going forward and a focus around Anthony Edwards long-term.