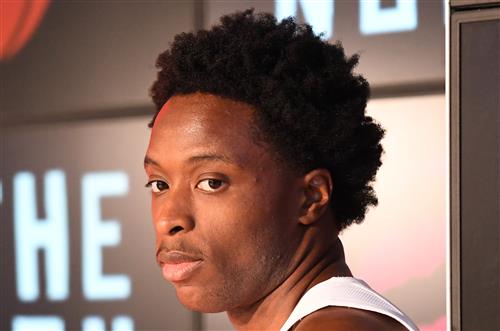 The Chicago Bulls revamped their roster in the offseason and while they have not made the playoffs since the 2016-17 NBA season, Billy Donovan's crew has their eyes set on being one of the best teams in the Eastern Conference.
With three All-Stars in Zach LaVine, Nikola Vucevic, and DeMar DeRozan, as well as a handful of key secondary talents in Lonzo Ball, Alex Caruso, Derrick Jones Jr., and others, the Bulls actually have a real case to be made here.
Since the last time they were in the playoffs, the Bulls have gone a combined 102-199 over the last four seasons, but they really have not had many talents outside of LaVine. At the trade deadline last season, they added Nikola Vucevic and now all of a sudden, Chicago has a really strong looking team heading into the new season.
They will be without Coby White to begin the year, as the young combo-guard continues to recover from offseason shoulder surgery, and Patrick Williams' status to begin the season is questionable due to an ankle sprain, but this team should still be able to keep up offensively with some of the better teams in the league.
However, Chicago still looks to be one piece shy from being on the same level as the likes of the Nets, Bucks, and Heat in the Eastern Conference.
Adding one more key player who can get things done on both ends of the court could immediately throw Chicago into championship contention in the Eastern Conference, which is why they could look to target a guy like OG Anunoby from Toronto.
Anunoby is coming off a career-year and is one of the early favorites to be the Most Improved Player for the 2021-22 season. Toronto is a big question mark right now because after losing Kyle Lowry in the offseason to the Heat, nobody really knows what to expect from this team, especially after they had their worst season last year in nearly 9 years!
The Raptors are likely going to hold off on making any significant changes to their roster, at least until the trade deadline, but let's take a look at a hypothetical trade put together by Bleacher Report's Zach Buckley that involves the Bulls trading for OG Anunoby.
Chicago Bulls Receive: F OG Anunoby
Toronto Raptors Receive: F Patrick Williams, G Coby White, POR 2022 1st Round Pick (Lottery-Protected, via CHI), CHI 2026 2nd Round Pick
Drafted 23rd overall in 2017, OG Anunoby entered the league as a combo-forward dealing with some injuries and as a result, he did not really see the court much during his first couple of seasons in the league. However, he stepped into a starting role with the Raptors during the 2019-20 season following Kawhi Leonard's departure and had a career-year with Toronto last season.
In just 43 games due to injuries, Anunoby averaged 15.9 points, 5.5 rebounds, 1.5 steals, and shot 39.8% from three-point range last season, making him primed for another breakout season this year.
Pascal Siakam is out to begin the year and the Raptors do not really have an identity right now, which is why the first few weeks of the season for Toronto could be all about letting Anunoby run the show.