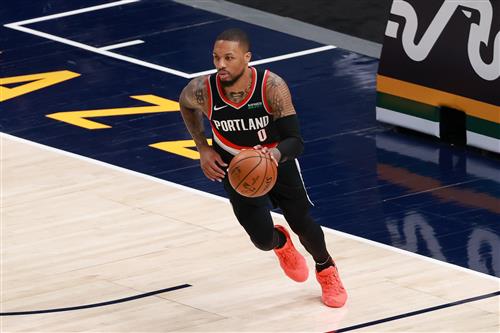 Damian Lillard could be getting fed up with the situation in Portland and this is bad news for the Trail Blazers. It could lead to the NBA All-Star point guard requesting a trade out of town. If this happens, the Blazers might have no choice but to grant his request and take advantage of the massive return they would get.
Portland was unable to advance in the postseason. They landed the sixth seed in the Western Conference and were eliminated by the Denver Nuggets. This marked the fourth time in five years that Lillard and the Blazers were unable to make it to the Western Conference Semifinals.
The Trail Blazers have been competitive with the duo of Lillard and CJ McCollum over the years but have been unable to take that step toward a championship. This is because they have not put the right pieces around them in the lineup.
On the other side, the Minnesota Timberwolves have not been competitive over the years. They landed their franchise player in Karl-Anthony Towns with the first-overall pick in 2015. They have made the postseason just once since Towns put the jersey on.
Despite signing a long-term deal, Towns could be used as a major trade piece. In this case, he would remain in Minnesota to team up with a fellow all-star.
This is an intriguing trade for both sides. Here is the blockbuster between the Blazers and Timberwolves that could be thought about in the offseason.
Minnesota Timberwolves Receive: G Damian Lillard
Portland Trail Blazers Receive: G D'Angelo Russell, G Malik Beasley, F Jaden McDaniels, 2022 first-round pick swap, 2023 first-round pick, 2024 first-round pick swap, 2025 first-round pick, 2026 first round pick swap
The idea of pairing Damian Lillard and Karl-Anthony Towns in the lineup is something that should interest the Minnesota Timberwolves heading into the offseason.
If the Timberwolves were to pursue Lillard in a trade, it would kick up the rebuilding process and give them that star needed to complete. Minnesota has the assets to send away and could put together an intriguing package.
If Towns remains in Minnesota, this means that both D'Angelo Russell and Malik Beasley would have to go back to the Blazers. Portland would also land two first-round picks and two first-round swaps over the next four years. This is the return that Lillard would warrant.
At some point, the competitive Western Conference will require the Timberwolves to either make an aggressive move with Karl-Anthony Towns in the fold, or to hit the hard reset button.
A move for Damian Lillard would be the kind of bold attempt to taking the next step that Minnesota could need. The Phoenix Suns managed to emerge as title contenders after adding Chris Paul into the mix. What if the Timberwolves were to acquire Lillard?