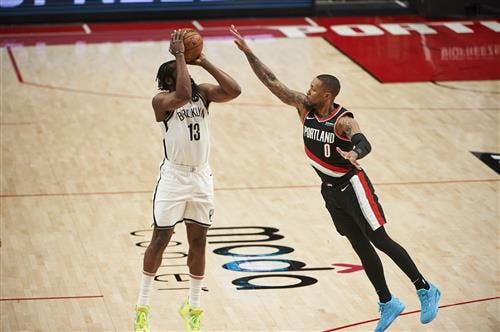 With there being a lot of talk about Damian Lillard's future in Portland, management getting blasted for their coaching search in the offseason and now the front office now being investigated due to misconduct in the workplace, getting off to a slow start was the last thing the Portland Trail Blazers needed this NBA season.
Nothing seems to be going right for this organization right now and after beginning the season 7-8, it is time to hit the panic button in Portland. This team does not look like a real playoff threat and while they could very well make the playoffs for the 9th consecutive season, their chances of winning a series are looking slimmer and slimmer.
Damian Lillard has really struggled this year, only averaging 20.3 points, 8.1 assists, and shooting just 27.9% from three-point range, and outside of their backcourt, this team struggles to find consistent production.
Jusuf Nurkic, Robert Covington, and Norman Powell are all great players, but the Trail Blazers just have too many issues that they will not be able to solve. They need to make a trade this year and they need to make a big one that will deliver Lillard an All-Star-level player to contend with.
According to Bleacher Report's NBA Staff, James Harden seems like the best All-Star that Portland could try to trade for to please Damian Lillard. Seeing as Brooklyn traded for Harden last year and he is very important to this team without Kyrie Irving playing, it is crazy to think the Brooklyn Nets would trade him instead of Irving, but crazier things have happened before in the NBA!
What would Portland have to offer up to even have a shot at catching the Brooklyn Nets' attention in regards to James Harden?
Portland Trail Blazers Receive: G James Harden, G Jevon Carter
Brooklyn Nets Receive: G CJ McCollum, F Robert Covington, G Anfernee Simons
Again, substitute Kyrie Irving into this trade instead of James Harden and maybe there is a deal to be had here, but there is as close to a 0% chance as you can get that the Brooklyn Nets will look to trade James Harden.
Something catastrophic and crazy would have to happen within this organization for them to want to get rid of Harden, especially since they are currently without Kyrie Irving! Even if they get CJ McCollum back, he is not the same MVP talent that James Harden is, which is why the Nets will not consider this deal.