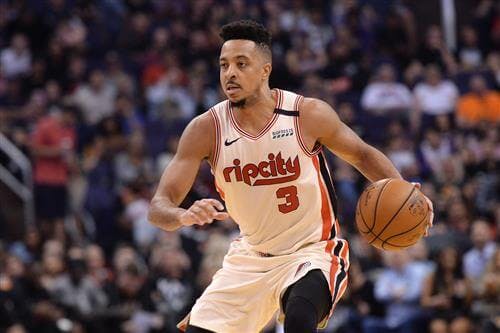 The NBA trade winds are brewing.
It might be just a little longer until they sweep across the hoops world, but when it happens, they could reshape the basketball landscape.
The championship race feels as wide open as ever, which might embolden clubs to take more chances than they normally would on the trade market. Paying a steep price is never fun, but sometimes you have to take the plunge if the possible payoff is a championship parade.
There has already been an inordinate amount of chatter regarding how this version of #TradeSZN might shape up, but it's time for some new ideas. How do four hypothetical blockbusters sound?
Blazers, Mavs Swap Scoring Guards
Dallas Mavericks receive: CJ McCollum
Portland Trail Blazers receive: Tim Hardaway Jr, Reggie Bullock and future first-round pick
Both the Mavericks and Trail Blazers reside in the same tier of teams who aren't contenders but could become ones if everything breaks just right. With Portland off to a slow start and Dallas in danger of massive regression (a solid 7-4 but only 21st in net efficiency), the teams might have to look outside their locker rooms for the pieces that can push them over the top.
The Mavs need another shot-creator to liven up their 23rd-ranked offense and ease the burden shouldered by Luka Doncic (league-leading 35.2 usage percentage). CJ McCollum could be perfect. He can steer an offensive attack with slippery scoring moves and capable table-setting, while his lethal long-range shooting makes him an easy fit with a more ball-dominant star.
Put him in the same offense as Luka Doncic, and Dallas could keep constant pressure on opposing defenses. That would also bump Kristaps Porzingis down to the third option, which if he bought into the setup, could allow him to focus more energy on defense and make him more efficient on offense by virtue of being more selective.
The Blazers, meanwhile, might be better off flipping McCollum for size, defense and depth on the wings, plus the incoming first-rounder could be re-invested in the trade market to help attack another need.
Tim Hardaway Jr. would give Damian Lillard a bigger, more athletic backcourt partner who still splashes three-balls frequently and efficiently. Reggie Bullock would answer a longstanding need for a three-and-D wing in Portland, and the Blazers could perhaps better balance their roster by starting him and bringing 6'3" Norman Powell off the bench to be their ignitable sixth man.
Knicks Add Difference-Maker, Pistons Enhance Rebuild
New York Knicks receive: Jerami Grant
Detroit Pistons receive: Obi Toppin, Alec Burks, Kevin Knox II, 2022 first-round pick (top-three protected) and 2023 second-round pick (via DET)
The Knicks seem capable of sustaining last season's success, but building on it might require going outside of the organization for help. They could scratch that itch with this exchange, and it wouldn't force them to drain their asset collection.