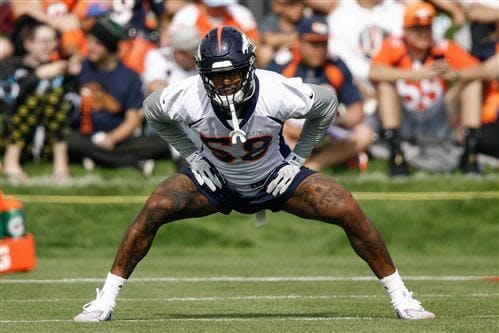 The prospect of the salary cap dropping from the current $198.2 million level to as low as the NFL/NFLPA agreed upon $175 million floor could produce an eventful offseason where a higher than normal number of players are released or traded.
A majority of the time when a player is traded or released, there is a residual cap charge. This cap charge for a player that is no longer on a team's roster is commonly referred to as dead money. It exists because the remaining proration of the salary components that are treated like signing bonus immediately accelerate into his team's current salary cap with a trade or release.

Dead money is typically a sunk cost where money isn't owed to a player. Only if there are salary guarantees when a player is released, will there be a payment associated with dead money. There are two major exceptions to this general rule of bonus proration accelerating. Only the current year's proration counts toward the cap with players released or traded after June 1. The bonus proration in future contract years is delayed until the following league year.

A team can also release two players each league year prior to June 1 (known as a post-June 1 designation) that will be treated under the cap as if they were released after June 1. With a post-June 1 designation, a team is required to carry the player's full cap number until June 2 even though he is no longer a part of the roster. The player's salary comes off the books at that time, unless it is guaranteed.

The Lions and Rams got the ball rolling a couple of weeks ago with the NFL's annual offseason roster purge. When the trading period opens at the start of the 2021 league year on March 17, Lions quarterback Matthew Stafford is being dealt to the Rams for quarterback Jared Goff, a 2022 first-round pick, a 2023 first-round pick and a 2021 third-round pick. Each team has a net cap space loss with the trade. Goff's $34.95 million 2021 cap number comes off Los Angeles' books while leaving $22.2 million in dead money from the bonus proration associated with his 2021 through 2024 contract years. Goff's dead money, combined with taking on Stafford's $20 million 2021 salary, adds $7.25 million to the Rams' cap.

Stafford's $33 million 2021 cap number becomes $19 million in dead money because of the bonus proration in his 2021 contract year and voiding 2022 and 2023 contract years. Stafford's dead money and Goff's $28.15 million 2021 salary coming aboard is a $14.15 million increase to Detroit's cap.

Additionally, high-profile players are starting to be cut. The Texans picked up $17.5 million of cap space by honoring three-time NFL Defensive Player of the Year J.J. Watt's request to release him. The Broncos gained $13,218,750 of cap room by cutting cornerback A.J. Bouye. The Panthers freed up $8,603,250 of cap space from terminating defensive tackle Kawann Short's contract.

Here's a look at 15 other noteworthy players who could be in different uniforms next season because of a trade or as a salary cap casualty.
Trade candidates
QB Deshaun Watson (Texans)
2021 salary cap number: $15.94 million
2021 compensation: $10.54 million
2021 dead money: $21.6 million
2021 salary cap savings: None ($5.66 million Increase)
The skinny: Watson has demanded a trade, while the Texans have zero interest in him playing elsewhere. Should the Texans have a change of heat and decide to deal Watson, the return would be unprecedented for the salary cap era. The acquiring team would be getting a cost controlled 25-year-old franchise quarterback, which why is the Texans have no desire to make a trade. Watson is under contract for five years averaging of $29.308 million per year ($146.54 million total). Only $10.54 million of cap space would be necessary to absorb Watson's 2021 salary. His salaries and cap numbers take a big jump after that to $35 million, $37 million, $32 million and $32 million in 2022, 2023, 2024 and 2025.
QB Carson Wentz (Eagles)
2021 salary cap number: $34,673,536
2021 compensation: $25.4 million
2021 dead money: $33,820,611
2021 salary cap savings: $852,925
The skinny: The Eagles are comfortable easily setting a record in dead money for one player by trading 2017's second overall pick. General manager Howie Roseman hasn't found much interest in Wentz after initially asking for a Stafford-type haul in return. The Bears and Colts are possible trade partners. The Eagles would prefer to trade Wentz sooner rather than later but the drop-dead date to move him is March 19, the third day of the 2021 league year, when his fully guaranteed $10 million roster bonus is due.