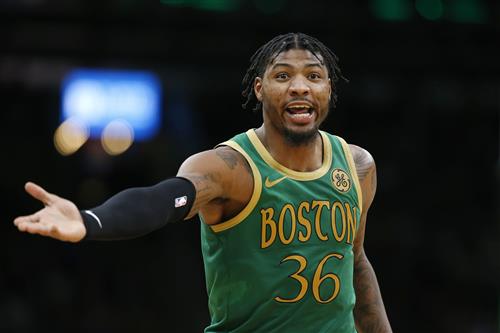 Once the NBA Finals conclude, training camps will be opening up and teams will begin their quest towards becoming the champions of the 2021-2022 season. For some teams like the Lakers, Heat, or Warriors, making one move could be the difference between another ring or an early playoff exit.
The offseason will likely hold some more offseason movement, as there are NBA stars that are likely to be moved. Teams will look towards adding role players or All-Star talent, so here are 15 players that could be traded this season.
Kyle Kuzma
It will all depend on what happens with the slew of free agents that the Lakers have. With Andre Drummond, Alex Caruso, Dennis Schroder, and Talen Horton-Tucker up for new contracts, the Lakers do not own a lot of assets to trade unless a sign-and-trade happens.
If the Lakers bring back half of those players, they could package Kuzma to make a deal for a higher-end All-Star player. Kuzma averaged 16.1 and 18.7 points in the league his first two seasons, but those numbers took a dip when the team added players like Anthony Davis and Schroder. In a starting role, those numbers could exceed 20 points, which is what could entice some teams to make a move.
Tyler Herro
If the Miami Heat wants to add a player like Russell Westbrook, Damian Lillard, or Bradley Beal, the team will have to part with Herro. After a sensational rookie season that saw Herro show flashes of an All-Star player, his sophomore season slumped and brought distractions about his work ethic.
His value may not be as high as a year ago, but Herro did average 15.1 points and 5.0 rebounds at the age of 21 years old. Some Miami fans can give up on him, but plenty of scouts will tell you those are pretty solid numbers. The Heat have a smaller window to make it back to the NBA Finals. A player like Westbrook, Lillard, or Beal could get the Heat back to the top.