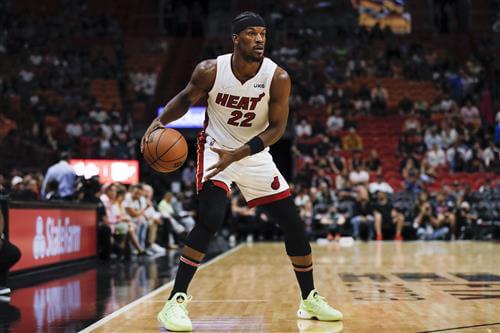 Jimmy Butler has been involved in drama before in his NBA career. There is a reason that he once played for three teams in less than two years. Now, the Miami Heat might be feeling some of that wrath.
This is strange to say for a team that has a chance to enter the postseason as the top seed in the Eastern Conference. The Heat are currently 51-28 and have a two game lead over the Boston Celtics.
Their success did not stop Butler from getting in a heated altercation with head coach Erik Spoelstra on the sideline last week. This led to wondering whether or not Butler will stick around long-term. If he is beginning to overstay his welcome, the Heat could explore trade options in the offseason.
To make matters worse, there is a chance that the Heat could matchup with the Brooklyn Nets in the first round with Kyrie Irving back. The Nets clinched a spot in the play-in round and this is bad news for any team near the top of the standings. For the Heat, this could be their second consecutive first-round exit.
Last season, the Heat were swept out of the first round by the Milwaukee Bucks. This left a bad taste in the mouth of the franchise and it showed with their offseason. The moves they made worked and Miami is back near the top of the conference, which is where they expect to be.
If this marks another year where the Heat underachieve, there could be some overhaul. Jimmy Butler would cause the biggest splash and these three teams could be interested right away.
Portland Trail Blazers
The Portland Trail Blazers split up the duo of Damian Lillard and CJ McCollum this season. After many years of underachieving, McCollum was sent to the New Orleans Pelicans. Now, Lillard could get another running mate along the perimeter.
A down year was expected from Portland but it may be worse than anyone would have thought. The Blazers are currently 27-51 and will likely wipe this season out of their memories.
With McCollum out of the equation, there is no superstar next to Damian Lillard. This is a role that Jimmy Butler could take but it would be interesting to see if he would fit well.