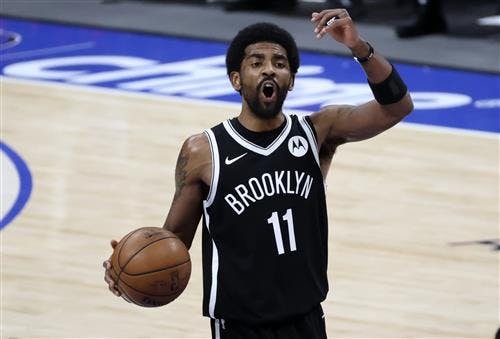 Drederick Irving answered his phone and explained he was not interested in any extended back-and-forth about his son. He said he had his own time as a player in the '80s and '90s and mentioned he has a pact with Kyrie that he will not try to shape the public's perception of him.
But in a brief, cordial conversation, the man the Brooklyn Nets' point guard has called his hero, idol, best friend and favorite player made it clear he has not been pleased with the media's recent coverage of his 29-year-old son. "Kyrie is probably the most misunderstood person in sports," his father said.
Read More- NBA Teams That Need a Blockbuster Trade Before Next Season
He talked a bit about his own basketball career at Boston University with the caller who had seen him play at Marist, where Drederick, then a spindly, 6-foot-4 sophomore, fearlessly penetrated and attacked a huge front line that included 7-4 Rik Smits, scoring 18 in a victory. Drederick rang up nearly 2,000 points at BU, got his jersey retired and got cut by the Celtics before lighting up a pro league in Australia, where Kyrie was born. All these years later, when the subject of his son's philanthropy is raised, Drederick points out that Kyrie does not seek publicity for his good deeds.
Buying George Floyd's family a new house? "I didn't even know he did it," Drederick said.
Everyone who knows Dred's son knows that basketball doesn't define him. In Kyrie's case, the game provides a platform for the human being more than it serves as a proving ground for the athlete, which is an interesting thing to say about a point guard who is being paid $33.3 million this season to get past his old team, Boston, in the first round, and to ultimately win the city's first basketball championship since 1973.
We have had private, distant and mysterious athletes before in New York, from Joe DiMaggio to Derek Jeter, but we have never seen or heard anything quite like Kyrie Irving, who chose last week, after the season's penultimate game, to reject all questions about Brooklyn's title bid, or James Harden's return, or Big 3 chemistry concerns, to instead address Middle East conflict and human bondage. How many players would say basketball "is just not the most important thing to me right now" while standing on the doorstep of the playoffs? How many athletes could seem so removed from the all-consuming, winning-is-everything nature of pro sports the night before becoming only the ninth NBA player ever to finish a season shooting at least 50 percent from the field, 40 percent from 3-point range and 90 percent from the line?