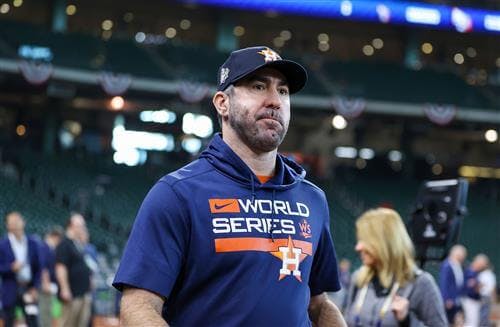 This won't be anything like last offseason for Justin Verlander.
Sure, there was intrigue to see him come back after missing two years while recovering from a torn UCL. Well over a dozen teams sent scouts to watch him work out in Florida last November, when he threw about 25 pitches clocking in between 94-97 mph, according to the New York Post's Joel Sherman.
No one had seen a pitcher, especially of this caliber, return from Tommy John surgery at this age commanding high figures like Verlander, but now everyone knows the results of the experiment.
In 2022, Verlander led baseball with the lowest ERA, WHIP and tied for lowest opponent batting average.
So with that in mind, let's take a look at the top landing spots for the greatest right-handed pitcher of his generation.
Detroit Tigers
This feels like more of a play on nostalgia. The Tigers are not built to win now and brought in a new president of baseball operations to reset their strategy.
Detroit's most immediate needs are at corner outfield, catcher and third base. The offense was putrid in 2022, with the Tigers scoring the fewest runs and ranking next-to-last in OPS.
Justin Verlander won't fix that. But he is still a legend there. Coming off another Cy Young-worthy season, it's also certain he would immediately improve a pitching staff that ranked bottom third across baseball in ERA and WHIP.
Now that Verlander has two World Series rings, and finally an individual win in the World Series, would he be intrigued by finishing this Hall of Fame career where it started?
The Tigers, albeit under different management, were aggressive last offseason in signing Eduardo Rodríguez and Javier Báez to sizable contracts.
Those deals did not exactly pan out in year one, but Verlander's consistency and longevity is a safer bet.
Verlander has said he's always open to the idea of finishing his career with the Tigers, but he wants to be on a competitive ballclub.
Philadelphia Phillies
This would be quite the scene, Verlander joining the team he just beat to win the World Series with a legitimate chance to compete for another championship.
The Phillies are already paying a lot for Bryce Harper, Zack Wheeler, J.T. Realmuto, Kyle Schwarber and Nick Castellanos. All of them make at least $20 million next season.
Verlander is projected to get at least $35 million annually, if not closer to a Max Scherzer-like deal ($43.3 million per year over three seasons).
This is the kind of move that could put the Phillies over the top. One of their weaknesses was the backend of the rotation. But if you stick Verlander at the top, with Wheeler and Aaron Nola, then Ranger Suarez as your fourth option, that's an incredible upgrade. The Phillies also have top prospect Andrew Painter, who could factor into the mix.
Addressing the rotation should be one of the Phillies' top priorities this offseason.
Verlander wants to win championships, and now he knows firsthand how close the Phillies are to doing it.