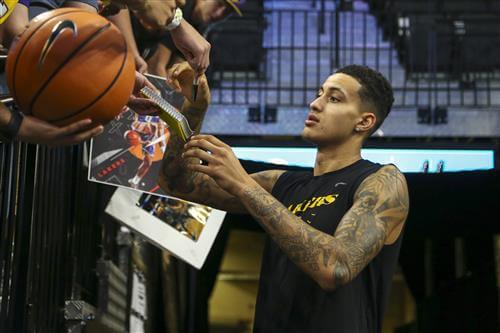 With the Trade Deadline approaching, many teams are expected to make changes to their rosters. While many of the teams expected to make some moves are fringe playoff teams, there are a handful of teams at the top of the league record-wise that could look to dabble in the trade market. One team looking to make moves is the Los Angeles Lakers.
Despite their dominant start, they have some concerns that they want to acknowledge and should be active near the trade deadline.
Their biggest trade asset is Kyle Kuzma. Kuzma has made headlines recently due to comments made by his trainer towards LeBron. Despite inconsistent play and injuries, Kuz could be a valuable piece to a team looking for youth and is only 24. With that being said, here are 5 teams that should look to trade for Kyle Kuzma
Sacramento Kings
The Kings have had an up-and-down season this year. After a rocky start, they have picked up their play and currently sit as the 11th seed in the Western Conference and are just 1.5 games behind the Spurs for the 8th seed. The big talk in the Kings' organization has been what will happen with Bogdan Bogdanovic. Bogdan hasn't re-signed with the Kings and is set to be a free agent at the end of this season. The Kings have made it known that he is available, and the Lakers should pounce on this opportunity.
A potential trade would be Bogdanovich and a future 2nd round pick for Kyle Kuzma. On the Lakers, Bogdan would be an essential piece as his 3-point shooting and versatility could prove to be valuable on the team.
Kuzma would be in a new situation and an improved role on the Kings. This move could allow Marvin Bagley to play center and Kuzma to play power forward which could be beneficial to both players.
Orlando Magic
The Magic have been an interesting team this season. We the mixture of young players and veterans on this team, it is uncertain in the direction that they want to go in. Currently the 7th seed in the East, they aren't contenders so it would make sense for them to blow the roster up and rebuild.