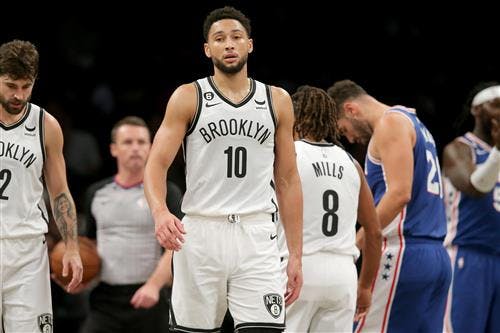 The Brooklyn Nets have won their last two games, with them managing to defeat the Charlotte Hornets and the Washington Wizards in their recent back-to-back. Kevin Durant is still playing at an extremely high level, and this season, he is putting up 31.5 PPG, 6.2 RPG, and 4.8 APG while shooting 52.0% from the field.
With Kevin Durant playing at this level, it is clear that the Brooklyn Nets need to make a move to get him some help. Kyrie Irving is suspended until he fulfills their six conditions for him to return to the court in the wake of his scandal, and there is no team that is interested in him, bar the Lakers. It is unlikely that the Nets would get a good return for Irving in a trade due to his off-court situation and expiring contract. Ben Simmons, however, could be a viable trade candidate for the team, with some reports suggesting that the Nets could trade Ben Simmons for a veteran shooter.
"Even prior to that loss on Saturday, the Nets have been talking to teams about cursory trades ideas. The Nets were looking for shooting Ben Simmons' name actually came up in at least one conversation they were having with a Western Conference team. It seems like several things are on the table for the roster. Sean Mark certainly didn't sound like a GM who's sold on this roster so stand by there and see where the Nets go from there."
In this article, we have come up with a trade scenario that gets the Brooklyn Nets some shooting and veteran help. This hypothetical trade would feature the San Antonio Spurs as a trade partner.
Brooklyn Nets Receive: Doug McDermott, Josh Richardson, Zach Collins
San Antonio Spurs Receive: Ben Simmons