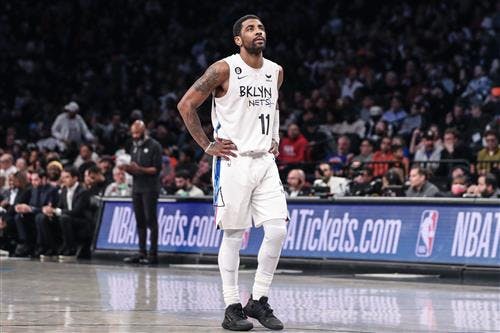 The framework for a potential deal involving Brooklyn Nets point guard Kyrie Irving going to the Los Angeles Lakers would involve Russell Westbrook heading east alongside L.A.'s 2027 and 2029 first-round picks, per Jovan Buha of The Athletic.
"The Lakers have interest in acquiring Irving, according to multiple league sources who were granted anonymity to speak freely on the subject. The framework of a potential deal would be Russell Westbrook and the Lakers' 2027 and 2029 first-round picks — with the Lakers pushing to add lottery protection to at least one of them — in exchange for Irving and another Nets role player (likely Joe Harris), according to those sources. Depending on how the Nets value the Lakers' picks and what happens with Kevin Durant in the wake of this news, the Lakers could reroute one of their picks to a third team, who would then send additional players to Brooklyn to help the Nets remain competitive."
Irving first requested a trade Friday, according to Shams Charania of Stadium and The Athletic.
ESPN's Brian Windhorst on Friday's edition of NBA Today that the Lakers are interested in Irving but have reservations about a long-term deal.
"The Lakers' position, from what I understand, is they've been interested in trading for Kyrie Irving but they're not so sure about trading for him and being obligated to give him a $200 million contract at season's end."