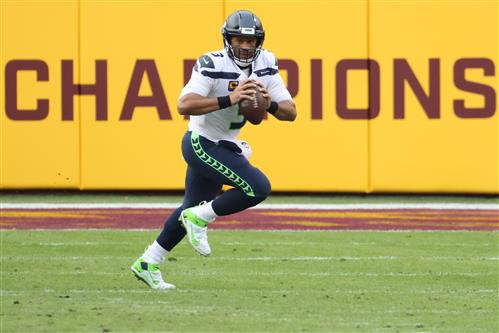 The scene is set for historic movement.
Due to a series of events last offseason, there's a level of anticipation the quarterback market could reset the NFL's power structure in 2022. Some of the league's biggest names could be changing teams, and the ensuing chain reaction could send franchises in different directions.
Last offseason was merely a teaser. Matthew Stafford, Carson Wentz, Jared Goff, Sam Darnold, Teddy Bridgewater and Gardner Minshew were all traded. To varying degrees, relationships were fractured between Aaron Rodgers and the Green Bay Packers, Russell Wilson and the Seattle Seahawks and Deshaun Watson and the Houston Texans. While Dak Prescott and the Dallas Cowboys reached a massive long-term extension to avoid a split, there was only temporary relief with reworked contracts for Matt Ryan and the Atlanta Falcons and Ben Roethlisberger and the Pittsburgh Steelers. Drew Brees retired. And five uber-prospects were drafted in the first 15 picks.
Could it get even wilder than that? Let's take a peek into the future and examine the quarterback market for the upcoming offseason.
Big names potentially on the move
Deshaun Watson: Watson requested a trade during the offseason, and the Texans failed to move him before the Nov. 2 deadline. The Texans have been asking for a package that includes three first-round picks and two or three other quality assets including draft picks or players, according to sources, and they haven't relented on the price despite Watson's legal situation. Watson has been accused by 22 women of sexual misconduct but has denied wrongdoing.
The Dolphins and Panthers have discussed a Watson trade, according to sources. However, a trade was never truly close to materializing because each team wanted a resolution with his legal standing. Dolphins owner Stephen Ross even requested to speak with Watson before the trade deadline, but the conversation never occurred because Ross wanted Watson to settle each civil lawsuit.
There's little doubt Watson will again be the subject of trade discussions during the offseason. But until there's a resolution with Watson's legal situation, it's impossible to predict an outcome with his trade request.
Aaron Rodgers: Rodgers' poignant displeasure with the Packers last offseason has remained in the rearview mirror since he reported to camp over the summer and restructured his contract to make himself an easier trade piece. Maybe it'll even stay there. After all, the Packers (8-2) have the best record in the NFL, and winning cures a lot. They've also got a strong roster and should give Rodgers a better chance to win a Super Bowl than any team that tries to swing a trade for him.
The quarterback's leverage has possibly even increased over the last few months. Rodgers, who turns 38 in December, was on the COVID-19 list during the Packers' loss to the Chiefs, and 2020 first-round pick Jordan Love didn't look ready to take the baton.