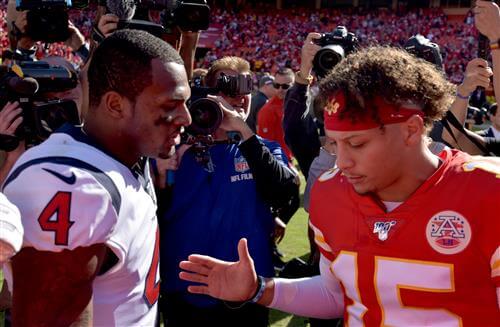 There was a passing of the torch in the NFL this weekend, an unexpected but significant occurrence that could usher the league into a new era of quarterbacks.
A cynic might describe the transition as "out with old and in with the new." But what's evolving before our eyes is the next generation of quarterbacks proving their worth by making their mark in the playoffs.
This season's divisional round doesn't have many of the familiar names that have starred in the recent past. Tom Brady, 42, and the Patriots made an early exit, raising speculation his Hall of Fame career in New England could be over. Drew Brees, who turns 41 this month, and the Saints saw their season come to an abrupt end by losing at home in overtime against the Vikings.
Meanwhile, Philip Rivers, 38, (Chargers) and Matt Ryan, 34, (Falcons) couldn't get their teams into the playoffs; Eli Manning, 39, lost his starting job with the Giants; and Ben Roethlisberger, 37, played in just two games before his season ended with an injury.
Those familiar names are spectators now, clearing the way for a younger collection of quarterbacks trying to create its own playoff legacies. If the future hasn't arrived, it's certainly pounding the door, especially in the AFC, where Pat Mahomes, 24, leads the Chiefs against Deshaun Watson, 24, and the Texans in Kansas City, while Lamar Jackson, 22, and the Ravens take on Ryan Tannehill, 31, and the Titans in Baltimore.