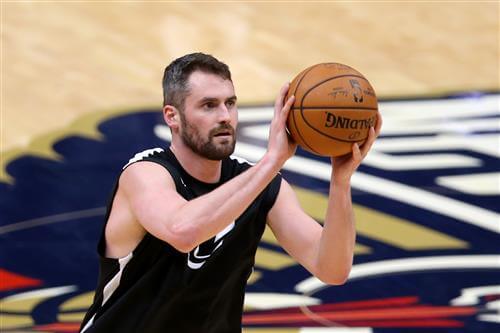 Could Kevin Love be the next former All-Star to reunite with LeBron James and join the star-studded 2021-22 Los Angeles Lakers?
On Friday, the Cleveland Cavaliers, Chicago Bulls, and Portland Trail Blazers executed a three-team trade that sent Lauri Markkanen to Cleveland, Larry Nance to Portland, and Derrick Jones Jr. to Chicago. The Cavs then inked the 24-year old power forward to a four-year, $67 million contract.
Markkanen's arrival — following the Cavs' selection of stretch-4 Evan Mobley with the No. 3 pick in the 2021 NBA Draft — is the latest signal that Love's tenure in Cleveland could be coming to an end The 32-year old appeared in 25 games in 2020-21 and didn't seem all that thrilled to be on the court with the young Cavs squad.
Depending on how the finances play out, a move to the contending and veteran Lakers would seem to offer a more appealing basketball (and life) situation for Love — a Santa Monica native who made a run to the Final Four alongside Russell Westbrook at UCLA and won an NBA championship with James.
Love also won a gold medal at the 2012 Olympics in London with James, Westbrook, Carmelo Anthony, and Anthony Davis.