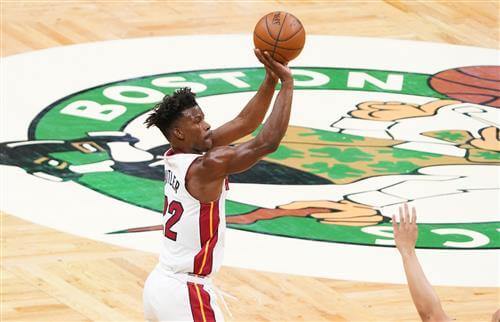 Jimmy Butler was widely viewed as having ascended to superstar status after he took the Miami Heat to the NBA Finals during the 2019-20 postseason. Even this regular season, Jimmy Butler had a fairly solid statistical season, averaging 21.5 PPG, 6.9 RPG, and 7.1 APG. Those are solid numbers that suggest Jimmy Butler contributed everywhere on the court.
However, despite his solid regular season, Jimmy Butler didn't have a good playoff run. The Miami Heat were swept in the first round of the playoffs by the Milwaukee Bucks, who they defeated on the way to the Finals last season. Jimmy Butler's numbers dropped drastically from the regular season. He averaged 14.5 PPG, 7.5 RPG, and 7.0 APG while shooting 29.7% from the field and 26.7% from the 3PT range during the 4 games against the Bucks.
Read More - Lakers to explore acquiring Kyle Lowry during offseason
Arthur Hill off Hoops Rumors has detailed what the Miami Heat's plans this offseason may look like. Hill mentions that Jimmy Butler's extension will be a big decision for the Miami Heat, as Butler's extension. It is also suggested that the Miami Heat could potentially make a run at other players in free agency.
The Heat are coming up on an important decision regarding Butler, who will be eligible for a four-year extension worth $181MM, Marks adds in the same story. Butler was outstanding during the regular season, but wasn't as effective in the playoffs, and Miami will have to determine whether he's worth that investment with his 32nd birthday coming up in September.