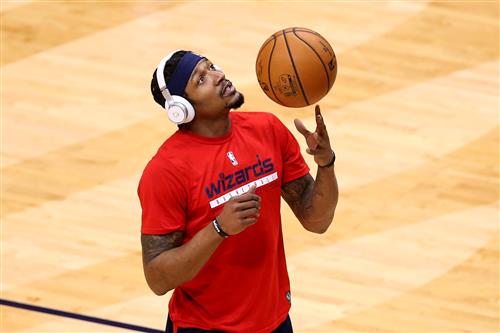 The Miami Heat are re-tooled and ready for another deep playoff run this season. After bringing in Kyle Lowry, P.J. Tucker, and Markieff Morris while retaining of Victor Oladipo, Duncan Robinson, Gabe Vincent, Max Strus, and Dwayne Dedmon, the Heat are looking to take back the Eastern Conference in 2022 and bring an NBA title to South Beach for the first time since 2013.
Led by Jimmy Butler and Bam Adebayo, this deep and talented Heat squad is poised to make some serious noise during the 2021-22 NBA season. Still looking to add more talent to their roster in hopes of another title run, one player who could help get them over the top is Bradley Beal.
A trade with Washington straight up would require Miami to surrender a lot of assets the front office may not be willing to part with at the moment. The best outcome for the Heat with regard to a Beal trade is a three-team deal that would allow them to unload some assets while getting a superstar in return and helping another team out in the process.
Let's take a look at the Heat's best theoretical, three-team trade to steal Bradley Beal from the Wizards.
Proposed Three-Team Trade
Heat receive: Bradley Beal and Thomas Bryant
Wizards receive: Mason Plumlee, KZ Okpala, PJ Washington, multiple 2022 first-round picks, and a 2023 second-round pick
Hornets receive: Tyler Herro and Montrezl Harrell
In this trade scenario, the Heat are getting one of the league's best scoring guards who could be the missing link to their next title run. With his relentless three-level scoring punch and underrated playmaking abilities, Beal would make Miami the biggest threat to the Brooklyn Nets and Milwaukee Bucks in the star-studded Eastern Conference. The Heat would also be getting a promising young big in Thomas Bryant, who could give Miami a well-rounded starting five.