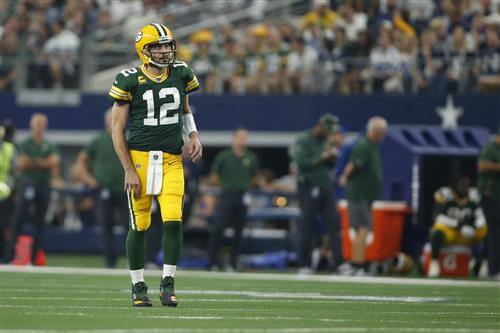 There is reportedly belief that some within the Green Bay Packers organization are "torn" regarding the standoff with quarterback Aaron Rodgers.
Appearing Wednesday morning on SportsCenter, ESPN NFL insider Jeremy Fowler reported that some members of the organization are hopeful Rodgers will report to training camp, while others are "not so sure" due to the notion that Rodgers will wait it out until he gets what he wants.
ESPN's Adam Schefter was the first to report in April that Rodgers had told some within the Packers organization that he was unhappy and no longer wanted to play in Green Bay.
While teaming with Bryson DeChambeau in a winning effort against Phil Mickelson and Tampa Bay Buccaneers quarterback Tom Brady in Capital One's The Match on Tuesday, Rodgers was asked about his status.
The 37-year-old veteran didn't provide the commentary team with much, as he told them he didn't know who would be the Packers' starting quarterback in 2021.