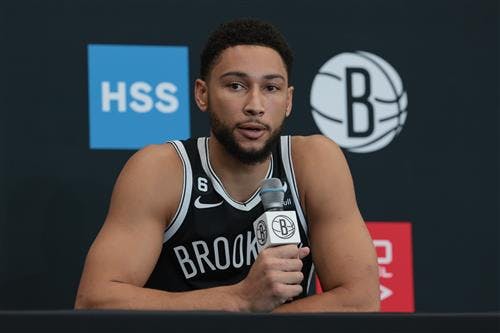 The Brooklyn Nets gave the NBA offseason extended life. Every move the organization made -- and didn't -- was examined; every whisper, every tweet broken down to the syllable as the league watched the turmoil unfold throughout the summer.
Kevin Durant, who on June 30 requested a trade, then requested for general manager Sean Marks and head coach Steve Nash to be fired, now appears ready to start the season with the Nets.
The roller coaster continued, as guard Kyrie Irving dealt with questions about his own future in Brooklyn. While speculation about a potential reunion with LeBron James and the Los Angeles Lakers took up the first week of free agency, no deal materialized.
Irving, who played just 29 games last season because of his vaccination status and New York City's mandate, could not come to terms with the Nets on an extension, announcing June 27 his decision to opt in to final year in his contract, a player option worth $36.5 million.
Meanwhile, Ben Simmons, who was acquired just before February's trade deadline from the Philadelphia 76ers, hasn't played in over 16 months. After arriving in Brooklyn, Simmons missed the rest of the year while dealing with mental health concerns and a back injury that ultimately forced him to have surgery over the summer.
As the Nets head into their preseason opener Monday against the 76ers, they appear to be on the same page for the first time in years.
Here are the five biggest questions surrounding the Nets heading into the 2022-23 season:
1. How will Durant respond to the Nets' summer of discontent?
Durant made clear after getting swept by the Boston Celtics in the first round last season that he had "no regrets" about the way the year unfolded. "No time to feel regret or be too pissed off. It's about how we can find solutions to get better, proactive as an organization to get better," he said in April.
What a difference a few months can make.
As Durant vented frustration about last season and the way he believed some players weren't being held accountable, he outlined exactly what he wanted to see moving forward after internal conversations within the organization.
"It's just a matter of team building," Durant said. "... I just felt like that's what great teams do. I feel like we don't have any respect out there on the court, and that's what I want for us. Respect amongst the NBA community as a team on how we play on both ends of the floor from GM [Marks] all the way down to the equipment manager.
"I want that respect. I think you [get that] by how you work every single day and we skipped some steps in how we worked throughout that year last year because of the circumstances -- vaccine mandates, people disgruntled, injuries. I felt like we could have just kept pressing forward, and that's what I try to do as a player. I'm not preaching something that I don't practice. I come in here, every rep matters to me, so I want everybody to feel the same way."