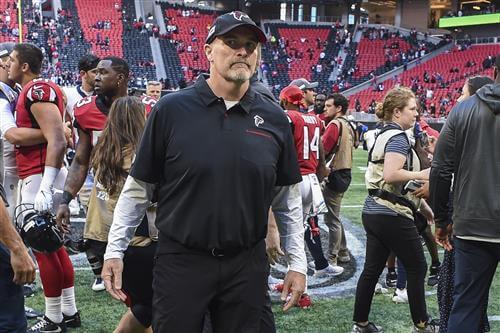 Remember when the Jets finished runner-up to the Falcons for the services of Dan Quinn as their head coach?
The year was 2015 and Jets owner Woody Johnson was believed to have coveted Quinn as his top choice to replace the fired Rex Ryan. But Quinn, then the defensive coordinator for the Seahawks, was in the throes of a second consecutive Super Bowl run and Johnson didn't want to wait. So, he settled on Todd Bowles.
Jets fans know how that worked out. For those who don't recall, it didn't.
Meanwhile, Quinn led the Falcons to the Super Bowl in his second season in Atlanta, losing to the Patriots in the ultimate game. He went 10-6 and lost in the divisional playoff round the next season, in 2017.
Since that second consecutive playoff berth, though, Quinn has looked a lot like Bowles did during his four seasons with the Jets in that his team has been inconsistent, disconnected and sloppy.
As if the 7-9 record in 2018 wasn't bad enough, it's gotten so bad in Atlanta this season — the Falcons are perhaps the biggest disappointment in the league at 1-6 after Sunday's 37-10 home loss to the Rams — that there's been some speculation that Quinn might not survive the season.
Falcons owner Arthur Blank has given Quinn a vote of confidence, but you know how those go: They're rarely trustworthy.
Historically in fact, votes of confidence from ownership often are precursors to eventual firings.