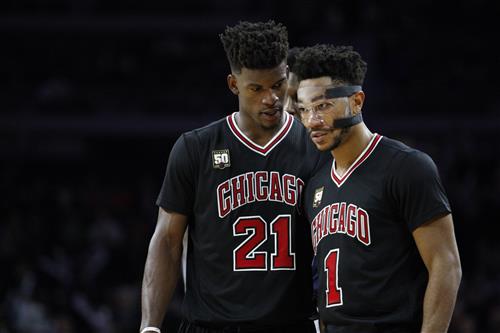 Every NBA franchise has drafted notable All-Star players and unfortunately have not been able to hold on to them. For a variety of reasons, players move teams and develop into very effective players.
The Chicago Bulls have a storied draft history with some excellent All-Star players that would actually fit very well together in today's NBA. If the Chicago Bulls were able to hold on to this starting lineup, they would field a very dominating starting five that would be a legitimate superteam. Here is the starting lineup for the Chicago Bulls if they kept every player that drafted.
Point Guard: Derrick Rose
Derrick Rose could have been one of the all-time greats. Rose was the youngest MVP winner in 2011 and was an absolute monster leading his Chicago Bulls team into the playoffs almost every year. Rose was arguably the most athletic player in the league prior to his injuries and could have been the player that could bring a championship to Chicago.
Even when his injuries robbed him of his unbelievable explosiveness, Rose is still very serviceable with averages of 18 points and 4 assists per game this last season. He also provided a flashback with a huge 50-point performance last season with the Timberwolves. Rose is one of Chicago's greatest point guards and would be a lock for the starting point guard position for the Bull's Drafted Team.
Shooting Guard: Gary Harris
Gary Harris is an excellent shooting guard in the league, thanks to his efficient two-way play. Harris is a very good defender who is thriving in Denver's system and is a key cog in the Nugget's lineup. Harris is also a very good shooter, who can drain shots from the three-point line and mid-range.
Harris has all the qualities of a starting two-guard in the NBA and has improved steadily every year since coming into the league. Starting Harris next to Rose would give them a good defensive backcourt with a mix of shooting and scoring.
Small Forward: Jimmy Butler
Butler is one of the best two-way players in the league who is a multiple-time All-Star.