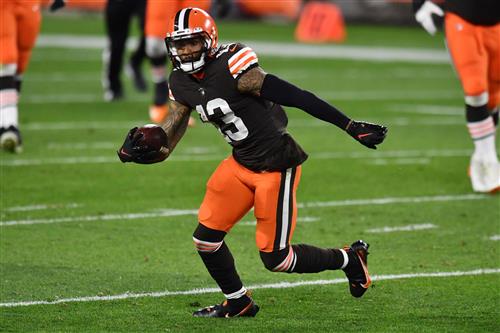 It's the NFL offseason and rumors rule the daily news cycle. That has perhaps never been more obvious than this year, what with the unprecedented quarterback movement that has brought us two monumental trades in as many weeks with the Matthew Stafford-Jared Goff swap followed by the Carson Wentz transaction. With the Deshaun Watson situation still unresolved and more than a few teams still in need of a starting quarterback for 2021, the next few months will bring even more action on the trade front.
Of course, it isn't a real football offseason without some talk of Odell Beckham Jr. trade discussions. The talented wideout is seemingly rumored to be on the move every year. This is for two reasons. One, he is objectively one of the most exciting players in the league when he's healthy and everyone likes to imagine how their own team's offense might change if OBJ was lining up outside. Two, he is a mercurial personality who tends to be portrayed as a man perpetually searching for more. Whether or not that's true doesn't matter (unfortunately), that's who he is in the eyes of many fans.
All that means any rumor, no matter how vague, involving "OBJ" and "trade" is going to be a talking point. We got more than a vague rumor in the form of a recent official report from NFL Network's Mike Garafolo, who said the Cleveland Browns are "listening" to trade offers for the star wideout, but teams aren't "knocking down the door" to try and acquire him.