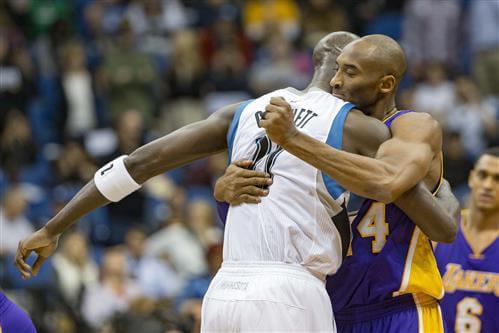 It's always intriguing to take a look at trade opportunities from the past that didn't end up paying off. In 2007, The Los Angeles Lakers had some big decision to make in the post-era of Shaquille O'Neal.
Three seasons after Shaq's departure, the Lakers hadn't achieved much, missing the playoffs in one year and being eliminated by the Phoenix Suns in the first round of the post-season in back-to-back years.
Kobe Bryant was begging for more talent to be added to the roster so General Manager Mitch Kupchak attempted to pull off an incredible deal that would have landed the franchise one of the best players in the league, Kevin Garnett.
The Deal
Lakers: Kevin Garnett
Timberwolves: Celtics' 5th pick (which was eventually Jeff Green), unknown Celtics' young player, potentially the Lakers' 19th overall pick (which ended up being Javaris Crittenton)
Pacers: Andrew Bynum, Lamar Odom
Celtics: Jermaine O'Neal
It was seen as a bit of a long shot with so many franchises needing to be involved, if this was to end up working, the Lakers would have received one of the greatest big men in the game. The Los Angeles Lakers eventually had to try and make the deal with just the Timberwolves as the Celtics were not interested in the hypothetical outcome.