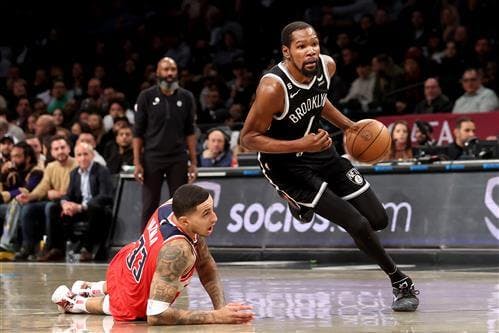 The Brooklyn Nets are a team that has been inconsistent this year, and they are currently 13-12 and the 8th seed in the Western Conference. Though the team is in a play-in tournament position right now, they could definitely slide down the standings in the future.
If the Brooklyn Nets do end up trending downwards, they could end up deciding to trade superstar Kevin Durant. If that happens, the Philadelphia 76ers are a team that could try to make a deal to get the superstar. Since they would need some extra draft capital to make a deal, they would need to add a third team to the trade. In our scenario, that team is the New Orleans Pelicans.
Philadelphia 76ers Receive: Kevin Durant, Garrett Temple
Brooklyn Nets Receive: Tyrese Maxey, Tobias Harris, Matisse Thybulle, Jaxson Hayes, 2024 First-Round Pick (NOP), 2029 First-Round Pick (PHI)
New Orleans Pelicans Receive: Seth Curry, Furkan Korkmaz, Paul Reed
There is no question that this deal benefits every team involved, and that is a key factor in any blockbuster trade happening. In this article, we will cover the reasons why each team should do this trade.
The Philadelphia 76ers Make A Win-Now Move For Kevin Durant
The Philadelphia 76ers are a team that has consistently been in the playoffs, but they have definitely not been a championship-caliber team. They have not been past the second round during Joel Embiid's tenure despite the star's individual talent. Perhaps a move for Kevin Durant could help them take the next step as a team, and increase the overall talent level on the roster.
Kevin Durant and Joel Embiid seem like a perfect fit next to one another. Kevin Durant is an elite shot-creator who has an elite perimeter game, while Joel Embiid is a dominant inside presence who isn't afraid to get physical in the post. The two could become the best one-two punch since Kobe Bryant and Shaquille O'Neal. Kevin Durant is a player that can punish opposing defenses for loading up on Joel Embiid and give the team a player who can score in the clutch and deliver in the fourth quarter.