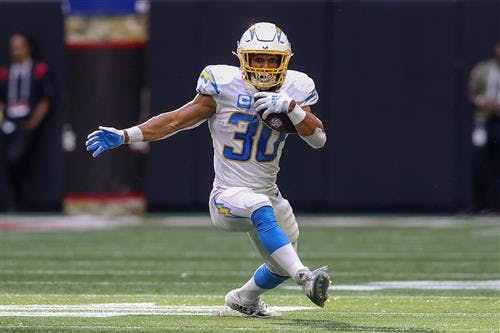 There was a time when the NFL trade market paled in comparison to those in other professional leagues. But teams have been wheeling and dealing in recent years, especially in the offseason.
Last year, stars like Russell Wilson, Khalil Mack, Tyreek Hill and Davante Adams were dealt during the early portion of the offseason. Star wideouts Marquise Brown and A.J. Brown were then traded during the draft.
This offseason, we've already seen standouts like Brandin Cooks, Stephon Gilmore, Jalen Ramsey and Jonnu Smith change teams via trades. We also saw the Chicago Bears deal the No. 1 pick in the draft to the Carolina Panthers.
The trade market isn't closed, though. Not by a long shot.
Here, we'll dive into some of the biggest trades that could still happen this offseason, based on factors like team needs, player production, contracts and any relevant recent buzz. We're focusing on potential offseason deals only, though it bears watching how the market evolves between Week 1 and the 2023 trade deadline.
Aaron Rodgers to the Jets
Let's start with the most obvious deal—the Green Bay Packers trading Aaron Rodgers to the New York Jets—which appears more likely than not to happen.
The Jets won seven games this past season but got poor play from their quarterbacks, particularly 2021 No. 2 overall pick Zach Wilson. The BYU product finished with a quarterback rating of only 72.8, while Jets quarterbacks finished with a collective rating of 75.0.
Although Rodgers wasn't in MVP form last season, he did post a respectable 91.1 rating.
Rodgers has also made it known to Green Bay that he'd prefer to play in New York this season. Green Bay, meanwhile, is hoping to finally get an extended look at 2020 first-round pick Jordan Love.
The Jets and Packers haven't agreed to a deal yet, but they're still negotiating. According to Yahoo Sports' Charles Robinson, the hold-up appears to center on potential compensation for New York if Rodgers doesn't play beyond 2023:
"The trade is currently orbiting a deal that would swap Rodgers for two high draft picks, according to multiple sources who spoke with Yahoo Sports. The sources characterized a deal as getting 'closer' despite stiff negotiation over how those picks would stack up and whether the package would include 'give back' protection for the Jets if Rodgers does not play beyond the 2023 season.
The Jets have two second-round picks after trading wideout Elijah Moore to the Cleveland Browns, so they have plenty of capital with which to make a move. Assuming Green Bay is ultimately willing to grant the Jets some sort of protection, the two sides will likely finalize this trade before the draft.
DeAndre Hopkins to the Chiefs
The Arizona Cardinals have been open to dealing wide receiver DeAndre Hopkins this offseason, but they haven't found a trade partner yet. That could change now that Arizona has opened the door for teams to speak with Hopkins directly.
"The Cardinals' initial ask, to get a second-rounder and another asset for Hopkins, seems to have fallen flat," Albert Breer of Sports Illustrated wrote Monday. "... To try to facilitate something, I'm told Arizona has granted teams permission to talk to Hopkins and his agents."
Hopkins is 30 years old and coming off a season shortened by a performance-enhancing drug suspension, but he's still one of the better wideouts in the league. In nine games this past season, he caught 64 passes for 717 yards and three touchdowns.
Meanwhile, the Kansas City Chiefs lost receivers JuJu Smith-Schuster and Mecole Hardman in free agency. Hopkins would be a terrific go-to target for quarterback Patrick Mahomes, and Kansas City is at least somewhat interested.
According to ESPN's Jeremy Fowler, the Chiefs are among the teams who "are at least looking" at a Hopkins trade. Fowler also mentioned the Buffalo Bills, who are seeking depth behind Stefon Diggs and Gabe Davis.
Buffalo's reported interest in Hopkins could force the hand of Chiefs general manager Brett Veach. If he isn't amenable to surrendering a second-round pick, a third-rounder might do the trick.