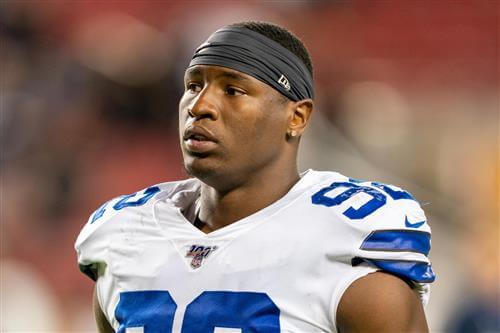 Beyond the NFL's stars, many often overlook the No. 3 wide receiver, the rotational edge-rusher or the one-year starter in the secondary, but those reserves and budding playmakers may have a lot more to offer.
These are the league's best-kept secrets, and for our purposes, it means they don't have Pro Bowl or All-Pro accolades for their roles on offense or defense—but we included standout special teamers with those honors. Most of the selections have limited starting experience or haven't been able to distinguish themselves at non-premium positions.
We've excluded first-round picks, because of the high expectations for them, and rookies, since they don't have pro production (regular season or preseason).
Who deserves more buzz? Let's shine a light on unheralded contributors across all 32 rosters.
Arizona Cardinals: S Jalen Thompson
Jalen Thompson has flown under the radar while his teammate at safety, Budda Baker, has earned Pro Bowl and All-Pro accolades.
But just like Baker, Thompson plays a versatile role in the Arizona Cardinals secondary, logging snaps at center field, in the box and in the slot. Last year, he became a full-time starter and logged a team-leading 121 tackles (79 solo), three for loss, seven pass breakups and three interceptions.
The Cardinals selected Thompson as the only pick (fifth round) in the 2019 supplemental draft. On the depth chart, he's surpassed safety Deionte Thompson, who went in the fifth round of the 2019 draft.
Most safeties generate little leaguewide buzz, though Thompson can command top dollar on the free-agent market next offseason if he has another productive year with high-level ball production.
Atlanta Falcons: S Jaylinn Hawkins
In 2021, Jaylinn Hawkins took the field for 49 percent of the Atlanta Falcons' defensive snaps, though he made enough plays on the ball to earn consideration for an expanded role in the upcoming season. The 2020 fourth-rounder finished with 24 tackles, one for loss, three pass breakups and two interceptions through 14 games (four starts).
After a year with the Falcons, safety Duron Harmon signed with the Las Vegas Raiders, and Erik Harris will go into his age-32 campaign. As a second-rounder from the 2021 draft, Richie Grant has upside, but Hawkins showcased more of his potential last year.
At 6'1", 208 pounds, Hawkins can play the deep safety role or line up in the box to supplement the run, which bodes well for his chance at a full-time starting position.
Defensive coordinator Dean Pees sees a bright future for the upstart talent.
"I think we got two good young safeties who are going to get their opportunity now this year," Pees said on 92.9 The Game (h/t SI.com's Daniel Flick).
Hawkins has already shown that he'll take advantage of more time on the field.
Baltimore Ravens: RB Gus Edwards
Gus Edwards hasn't started in more than six games in any of his four seasons, though he led the Baltimore Ravens in rushing for 2018 (718 yards) and accumulated at least 711 yards on the ground in each of his first three terms. He missed the entire 2021 season with a torn ACL.
Mostly as the No. 2 running back over the past two years, Edwards established himself in the Ravens backfield. Last year, he may have reached career-high rushing totals as a fill-in starter for J.K. Dobbins, who also tore his ACL during the 2021 offseason.
Instead, Edwards will look to bounce back from a lost season and maintain his consistency. Last June, he signed a two-year, $9 million extension, which shows the team values his contributions.
With that said, Edwards may not get a ton of praise because he's not heavily involved in the passing game (18 receptions for 194 yards in three years). Furthermore, if healthy, Dobbins, who's a 2020 second-rounder, will likely lead the backfield in carries and touches.
Buffalo Bills: DT Tim Settle
Following wideout Gabriel Davis' record-setting playoff performance against the Kansas City Chiefs in the 2021 AFC Divisional Round, he's no longer a secret. Instead, we should pay attention to the Buffalo Bills' subtle improvements to their run defense, which ranked 26th in touchdowns allowed last year.
This offseason, the Bills signed defensive tackles DaQuan Jones and Tim Settle. The former should be the front-runner for the starting spot. Yet the latter could eventually take over the lead role because of his upside as a pass-rusher.
In 2020 with Washington, Settle recorded 19 tackles, five for loss, five sacks and 10 pressures while on the field for 33 percent of the defensive snaps. Last season, his snap count dropped, and he had a nondescript campaign with just 13 tackles, four for loss and a pressure.
On the Bills' depth chart, Settle could surpass Jones, who will turn 31 years in December. Regardless, the two defensive tackles will split snaps alongside Ed Oliver. If the coaching staff sees the upside in the 24-year-old Settle, he's a potential three-down defender who could take the field for at least 50 percent of the defensive plays.
Carolina Panthers: Edge Yetur Gross-Matos
The Carolina Panthers lost their 2021 sack leader in Haason Reddick, who signed with the Philadelphia Eagles. Yetur Gross-Matos looks like the next man up opposite Pro Bowl defensive end Brian Burns.
Gross-Matos saw his defensive snap count drop from 48 to 38 percent between his rookie and second seasons. Behind Reddick, he became the primary backup off the edge. Now with an opening in the first unit, expect the third-year pro to take on a bigger workload.
Through 26 outings (nine starts), Gross-Matos has recorded 52 tackles, seven for loss, six sacks and 19 pressures.
According to The Athletic's Joseph Person, the Panthers might add another veteran edge-rusher, though they may not sign someone right away, which gives Gross-Matos a chance to jump on the starting spot in the offseason program.
With Burns commanding a lot of attention on one end, Gross-Matos could take advantage of one-on-one scenarios and match Reddick's pass-rushing production from the previous campaign.
Chicago Bears: LB Nicholas Morrow
As the Chicago Bears transition to an even-man front, they need two primary linebackers who can pursue ball-carriers across the width of the field and cover in space for their nickel formation.
Linebacker Danny Trevathan, who turned 32 years old in March, missed 12 games because of knee issues last season and sat out 19 contests since 2019. The Bears released him and signed Nicholas Morrow.
Morrow missed the entire 2021 campaign because of an ankle injury, though he's made a full recovery. Before his lost season, the versatile linebacker had his best year in 2020 with the Las Vegas Raiders, logging 78 tackles, eight for loss, nine pass breakups and an interception.
Morrow can play all three linebacker positions, and he's a former collegiate safety from Greenville University. The Bears can use him in different spots across the formation on all three downs, which may allow him to top his 2020 numbers as the probable starter alongside Roquan Smith.
Cincinnati Bengals: Edge Joseph Ossai
Joseph Ossai tore his meniscus in the Cincinnati Bengals' preseason opener against the Tampa Bay Buccaneers and didn't play a down in his rookie campaign.
Before that, he logged seven pressures in exhibition action, per Pro Football Focus, and sacked Buccaneers quarterback Tom Brady. Going into his second season, the 2021 third-rounder can become a reliable designated pass-rusher behind Trey Hendrickson and Sam Hubbard.
Because of Ossai's experience as an off-ball linebacker at Texas, he can play the strong-side linebacker position and take the field along with Hendrickson and Hubbard on obvious passing downs.
Though Ossai hasn't played a regular-season snap, he showcased great potential in just one preseason appearance. If that's a small sample of what's to come, the 6'4", 256-pounder could make a name for himself in 2022.
Cleveland Browns: WR Donovan Peoples-Jones
Donovan Peoples-Jones has made big plays through his first two seasons. He hauled in 48 passes for 901 yards and five touchdowns during that span and saw a significant increase in his offensive snap count from 2020 (34 percent) to 2021 (77 percent).
Initially buried on the depth chart behind Odell Beckham Jr., Jarvis Landry and Rashard Higgins through his rookie campaign, Peoples-Jones could open 2022 as a starter in three-wide receiver sets.
The Cleveland Browns released Beckham last November, and he signed with the Los Angeles Rams, who have yet to re-sign him as he recovers from a torn ACL. Landry and Higgins inked deals with the New Orleans Saints and Carolina Panthers, respectively.
Peoples-Jones has an edge in experience over rookie third-rounder David Bell. He outproduced 2021 third-rounder Anthony Schwartz, who caught 10 passes for 135 yards and a touchdown last year. The 2020 sixth-rounder should start opposite Amari Cooper, whom the Browns acquired from the Dallas Cowboys in March.
With three-time Pro Bowler Deshaun Watson set to replace Baker Mayfield under center, Peoples-Jones could rack up steady numbers in the passing game because of the upgrade at quarterback.
Dallas Cowboys: DE Dorance Armstrong
Randy Gregory signed with the Denver Broncos, which creates opportunities for a defensive end to take on an expanded role opposite DeMarcus Lawrence. Rookie second-rounder Sam Williams, 2021 third-rounder Chauncey Golston, Dante Fowler Jr. and Dorance Armstrong will all have a shot to carve out a consistent role on the edge.
Armstrong stands out because the Dallas Cowboys re-signed him on a two-year deal after they lost Gregory, and he's coming off his best season, logging 37 tackles, three for loss, five sacks and 22 pressures.
With a year in defensive coordinator Dan Quinn's system, Armstrong could build on a solid 2021 in which he served as a rotational defensive end through 13 games (five starts).
Armstrong will face stiff competition from the recent early-round draft picks and Fowler, who played under Quinn with the Falcons, but he's headed into his prime on a multiyear deal after a fairly productive campaign. The fifth-year pro seems like he's on the rise.
Denver Broncos: WR KJ Hamler
Despite former Denver Broncos quarterback Drew Lock's struggles with accuracy (57.3 percent completion rate), KJ Hamler caught 30 passes for 381 yards and three touchdowns in his 2020 rookie season. Last year, he tore his ACL in Week 3.
On the mend but well ahead of schedule in his recovery, Hamler has big plans for his third campaign: emulating Seattle Seahawks wideout Tyler Lockett.
As Hamler prepares to team with quarterback Russell Wilson, he's opened communication with the signal-caller's former Seahawks teammate, per The Athletic's Nick Kosmider.
"I'm a big fan of Tyler's game, and me and him have talked a lot," Hamler said. "I've just been picking his brain, like, 'How does Russ handle these situations?' It's being a sponge, absorbing knowledge from two Pro Bowl guys. I put on Tyler's film and I'm like, 'OK, he did this and he did that.' And then it's, 'OK, I can do all this.'"
With Wilson as the primary starter under center, Lockett racked up 1,054-plus receiving yards in each of the last three seasons. Hamler has the speed and versatility to line up in the slot or out wide to mirror Lockett's role. He may not see comparable production behind Courtland Sutton, Tim Patrick and Jerry Jeudy, though the latter could be out for an extended period as he faces second-degree criminal tampering with a domestic violence enhancer charge.