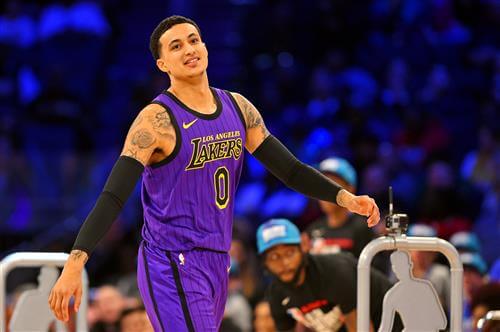 NBA trade season is nearly upon us.
The Toronto Raptors' trade for Kawhi Leonard last summer has moved them within a single game of an NBA championship, and it's now clear that one move can completely change the fortune of a franchise.
For teams that have been stockpiling draft picks and young players, the time to cash in is now.
New Orleans Pelicans power forward Anthony Davis leads the list of targets teams should be pursuing, and ESPN's Adrian Wojnarowski listed the New York Knicks, Los Angeles Lakers, Brooklyn Nets and Los Angeles Clippers among the franchises inquiring about his services. It's no surprise they're also some of the most asset-rich organizations in the league.
Putting together a package for Davis, as is the case with most superstars, won't be easy. Just ask the Lakers.
With the draft order now set and some of the league's brightest young stars coming off big playoff performances, here's how the league's best trade assets shake out. And while all young stars are technically trade assets, only ones who could realistically be traded, especially in a deal for Davis, are listed.
Honorable Mentions
Lonzo Ball, PG, Los Angeles Lakers
Now that he's worked his way through two injury-plagued seasons, we're starting to get a feeling for what Ball will become.
He's got terrific defensive potential, aided by his 6'6", 190-pound frame. Passing will continue to be a positive, as he's big and strong enough to zip assists all over the court.
That shot, though. After he made just 38 percent of his field-goal attempts in his first 99 career games, Ball may never be a dominant scoring threat. Think of him as a taller, supercharged Ricky Rubio. That's not necessarily a bad thing, but it's perhaps not what most envisioned when he entered the draft as the No. 2 overall pick in 2017.
2020 Memphis Grizzlies First-Round Pick, via Boston Celtics
The Celtics have three first-round picks in the 2019 draft, but their most valuable selection won't come until at least 2020.
The pick owed to them by Memphis is only protected for the top six selections next summer and becomes completely unprotected in 2021. With the Grizzlies heading into a rebuild, this will almost certainly be a top-10 pick in the next two years, if not first overall.
If Memphis does indeed trade franchise staple Mike Conley, this could be one of the NBA's worst teams, thus aiding the draft placement.
Jaylen Brown, SG, Boston Celtics
While Brown didn't have the breakout year for which the Celtics were hoping, he still showed off a developing offensive game mixed with a good defensive motor.
Teams looking to trade for Brown should be happy to know he was far more productive when not sharing the court with Kyrie Irving, who, despite his phenomenal talent, can sometimes hijack his team's offense. The 22-year-old Brown averaged 25.0 points, 8.0 rebounds and 2.8 assists per 100 possessions when Irving was off the floor, compared to 21.1 points, 6.9 rebounds and 1.9 assists when playing next to him.
While he's only on his rookie contract for one more season, Brown doesn't appear headed for a max deal and could sign a reasonable, team-friendly extension.
2019 No. 4 overall pick, Los Angeles Lakers
The Lakers lucked out when they jumped from a projected 11th overall pick all the way up to No. 4 in the draft lottery.
While the top of the draft seems destined to feature Zion Williamson, Ja Morant and RJ Barrett, the fourth pick is wide open.
If the top three go as expected, players such as Texas Tech swingman Jarrett Culver, Vanderbilt point guard Darius Garland and Virginia forward De'Andre Hunter will all be available. While a perceived steep drop separates No. 3 from No. 4 in this class, the Lakers' pick should still be a valuable trade piece this summer.
Kyle Kuzma, PF, Los Angeles Lakers
At times looking like the Lakers' best prospect, Kuzma put up 18.7 points, 5.5 rebounds and 2.5 assists per game during his age-23 season. He's a natural and gifted scorer whose offensive production continued to take a step forward even while sharing a ball with LeBron James.
He doesn't carry the upside of others on this list and has work to do defensively, but Kuzma should still be a starting power forward in the NBA for years to come.
No. 5: Pascal Siakam, PF, Toronto Raptors
2018-19 Per-Game Stats: 16.9 points, 6.9 rebounds, 3.1 assists, 0.7 blocks, 54.9/36.9/78.5 shooting
A year after averaging just 7.3 points and starting five of his 81 games, Siakam has emerged as one of the NBA's biggest surprises.
He's got the size and length (6'9", 7'3" wingpspan) to swallow up offensive players and finish over opposing centers in the paint. He's also become of the best corner-shooting big men, knocking down 41.1 percent of his three-pointers from the sides.
Any team that trades for Siakam would get a 25-year-old who already has 35 playoff games under his belt. In 22 starts this postseason heading into Game 5 of the NBA Finals, he's given the Raptors 19.0 points, 7.1 rebounds, 2.8 assists and 1.0 steals per night as a secondary star to Kawhi Leonard.
So, why would Toronto consider parting with him?
If they try to get into the Anthony Davis sweepstakes, he's the first asset for whom the Pelicans should ask. If Toronto feels it stands a better chance of keeping Leonard in free agency by bringing in a second superstar, Siakam would undoubtedly by the first piece to go.
As he continues to develop his outside game and rim-protecting abilities, Siakam could become a multi-time All-Star.
No. 4: Shai Gilgeous-Alexander, PG, Los Angeles Clippers
2018-19 Per-Game Stats: 10.8 points, 2.8 rebounds, 3.3 assists, 1.2 steals, 47.6/36.7/80.0 shooting
Despite staying on the board until No. 11 in the 2018 NBA draft, Gilgeous-Alexander was the sixth-best rookie in the league this season.
Barely missing out on first-team All-Rookie honors, Gilgeous-Alexander followed up a sparkling regular season with an even better playoff series against the Golden State Warriors. Despite being matched up in a battle with Stephen Curry, the first-year point guard helped push the series to six games by averaging 13.7 points while shooting 50.0 percent from deep.
He's got great size for his position (6'6", 181 pounds) and can finish over and around taller defenders in the paint. While he's not the fastest end-to-end guard in the league, he only turned the ball over 1.7 times per night while playing in all 82 games.