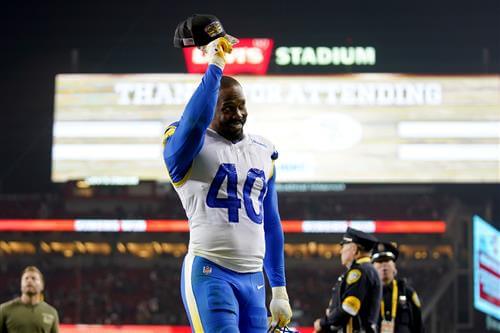 Von Miller is by far one of the NFL's most well-known stars slated to hit free agency in 2022.
The 2011 No. 2 overall pick racked up 110.5 sacks over 143 games with the Denver Broncos before the organization shipped him to the Los Angeles Rams in exchange for 2022 second- and third-round picks at this year's trade deadline.
Miller will be 33 in March, and after missing all of the 2020 season with an ankle injury and one game in Los Angeles already, he likely won't be in a position to demand a massive contract. That means he could be a bargain, and he could potentially push a team over the edge as a Super Bowl favorite.
At this stage of Miller's career, his top potential free-agent landing spots will give him a realistic shot at a championship and have at least some wiggle room under the salary cap. Positional need isn't as critical—what team wouldn't want to add Miller to its pass-rushing rotation?—but it doesn't hurt, either.
Los Angeles Rams
The Los Angeles Rams didn't give up second- and third-round picks for just a half-season rental of Miller. Albert Breer of Sports Illustrated reported that they "will try to keep him past this year."
"We're actually looking at this from a standpoint of how soon can he help us, can he help us if we're fortunate enough to continue going and make the 2021 tournament, how can he help us there," Rams general manager Les Snead told reporters. "And then there's a long-term vision for Von as well."
The Rams signed Chicago Bears castoff Leonard Floyd to a one-year, $10 million contract during the 2020 offseason, and he went on to rack up a career-high 10.5 sacks in 16 games last season. After signing a four-year, $64 million deal back in March, he's already up to 7.5 sacks in only 10 games this year.
Miller could do even better given his resume, which includes seven seasons of 10 or more sacks. He's a natural fit in the Rams' scheme as a versatile stand-up rusher, too.
The Rams currently project to have only $7.2 million in cap space next offseason, but restructures, cuts and even trades can help them keep their win-now roster together. Besides, Miller might not be looking for—or able to find—a massive payday on the open market anyway.
Tampa Bay Buccaneers
Speaking of teams in win-now mode, the Tampa Bay Buccaneers have to get a nod.
The Buccaneers have only gotten richer since signing Tom Brady last offseason. After winning Super Bowl LV, they found ways to keep stars like Chris Godwin, Shaquil Barrett, Rob Gronkowski, Antonio Brown, Leonard Fournette and others.
So, what's to stop them from adding Miller—or him wanting to go there?
The Buccaneers aren't having issues generating pressure this year. They're tied for 12th leaguewide with 24 sacks. Barrett is leading the way with 5.5, and six other players have two or more.