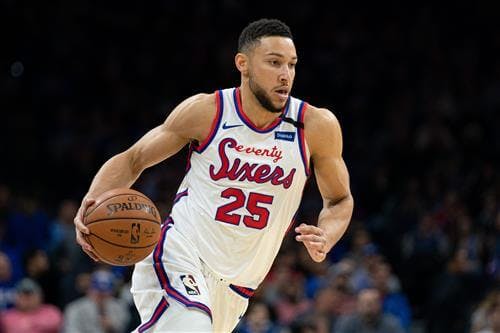 The Philadelphia 76ers continue to deal with drama surrounding Ben Simmons and there does not appear to be an end in sight. Daryl Morey and the Sixers' front-office have not changed their minds on the fact that they want an All-Star-level player for Simmons in a trade, but no team in the NBA has been willing to pay their price to this point.
Simmons, a 3x All-Star and Defensive Player of the Year candidate when on the court, has made his intentions to play anywhere else other than Philadelphia very clear, yet the team is still trying to "mend" their relationship with him.
Recently, Ben Simmons was fined for failing to travel on their recent six-game road trip. What a great way for Philadelphia to try and resolve this issue with their All-Star!
With Simmons not being "mentally ready" to play for the Philadelphia 76ers and with him probably never again being mentally ready for this franchise, the Sixers are faced with two avenues in which they can resolve this conflict.
They can either trade Simmons this season or like Daryl Morey has suggested, they can wait this thing out and continue to fine Ben Simmons until he does exactly what the team wants him to do.
This whole situation in Philadelphia is a disaster right now and quite honestly, the team has almost no chance to get what they want for him anymore.
It is possible though that the Philadelphia 76ers could continue to engage in trade talks revolving around Ben Simmons leading up to the trade deadline and Bleacher Report's NBA staff seems to think that the 76ers could possibly have a chance to re-acquire Jrue Holiday, who played in Philly for four seasons from 2009-2013.
The Milwaukee Bucks just won a championship in their first year with Holiday as their starting point guard, so will they really want to move him in a deal at the trade deadline this year to acquire Ben Simmons?
The idea of pairing Simmons with Giannis could create headaches and mismatches for opposing teams in this league, but this is an extremely far-fetched idea to believe in. Nonetheless, let's see what this proposed deal looks like.
Philadelphia 76ers Receive: G Jrue Holiday
Milwaukee Bucks Receive: G/F Ben Simmons
One All-Star talent for another is what this deal looks like for the Philadelphia 76ers and Milwaukee Bucks.
At 31-years-old, Jrue Holiday is getting older, but he is playing some of the best basketball of his career in Milwaukee and has been such an important piece to their championship puzzle. It is not a coincidence that the Milwaukee Bucks won a championship in Holiday's first season with the team and he is one of the most disrespected defenders in the entire league.