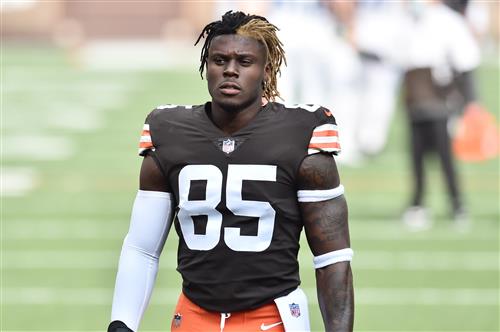 The 2021 NFL draft is still roughly two weeks away, and we've already seen the trade market impact the selection process.
The San Francisco 49ers traded with the Miami Dolphins to acquire the No. 3 overall pick. Miami moved down to No. 12 in that deal, then traded back up to No. 6 in a swap with the Philadelphia Eagles. The New York Jets then traded quarterback Sam Darnold to the Carolina Panthers, potentially taking Carolina out of the quarterback market in Round 1.
It would be foolish to assume the trading fun is over, as draft-day trades can and will still occur. Here, we'll examine seven potential deals that appear entirely plausible based on team needs, draft positioning and any relevant recent buzz.
Ravens Trade Orlando Brown Jr. to Minnesota
Vikings Get: Orlando Brown Jr., No. 27 pick
Ravens Get: No. 14 pick, No. 125 pick, 2022 second-round pick
While the Baltimore Ravens have not yet pulled the trigger on a deal, they have allowed right tackle Orlando Brown Jr. to gauge interest on the open market. Brown's value could be at its highest over draft weekend, which would be especially true if an early run on tackle prospects leaves teams near the bottom of Round 1 wanting.
Brown has expressed his desire to play left tackle, but the Ravens have Ronnie Stanley entrenched at that spot. The Minnesota Vikings, however, should be in the market for a left tackle after losing Riley Reiff in free agency. Unsurprisingly, Minnesota has reportedly shown interest in Brown.
"There's been dialogue with the Vikings and Orlando Brown Jr.," Darren Wolfson of KSTP reported, per SKOR North.
While Minnesota may not be willing to part with the 14th overall selection outright, it could consider swapping first-rounders with Baltimore and including other picks in the deal—the Vikings don't possess a second-round selection in 2021.
Such a move could allow the Ravens to target one of this year's top wide receiver prospects. The Ravens have lacked a legitimate No. 1 receiver for several years and could look to address the issue now.
The Vikings and Ravens also have trade history, the most recent involving pass-rusher Yannick Ngakoue. The two franchises also exchanged picks on Day 3 of the 2020 NFL draft.
Browns Trade David Njoku to the Jets
Jets Receive: David Njoku, No. 26 pick
Browns Receive: No. 23 pick
The future of Cleveland Browns tight end David Njoku is extremely uncertain. While his fifth-year option has already become guaranteed, the 2017 first-round pick hasn't had the best relationship with the Browns and has previously asked to be traded.
"It is in David's best interest to find a new team at this time," agent Drew Rosenhaus said last summer, according to ESPN's Adam Schefter.
With Austin Hooper and 2020 fourth-round pick Harrison Bryant on the roster, Cleveland could very well view Njoku as expendable. Using him as draft-day trade leverage would make a ton of sense if the Browns don't expect Njoku back next offseason.
One potential trade target is the Jets. After trading Darnold, New York is almost certainly in the market for a quarterback at pick No. 2. A playmaking tight end can help a young quarterback develop, and the Jets don't currently have one on their roster.
While Njoku has had an up-and-down career thus far, he did rack up 639 receiving yards and four touchdowns in his second season.
Moving up three spots in the first round might not seem like a massive return for Njoku, but it could be huge for Cleveland, especially if the Browns have an eye on one of the draft's top pass-rushers. After all, the Pittsburgh Steelers lost Bud Dupree in free agency and own the 24th pick in the draft.
It could also be big if Cleveland is targeting a cornerback. The Tennessee Titans, who own the 22nd pick, ranked just 29th in pass defense last season. Cleveland, meanwhile, registered 38 sacks and ranked 22nd in pass defense in 2020.