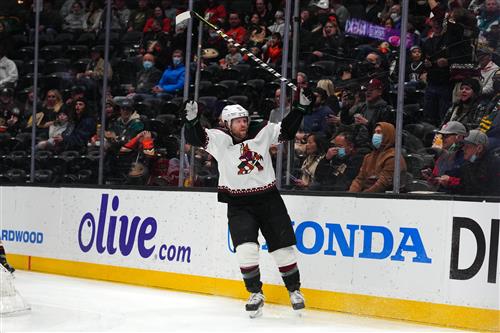 It's beginning to look a lot like crunch time.
Even though the 2021-22 season is just short of halfway complete for most teams, general managers around the NHL are already feeling the stress needle move as postseason races begin to take early shape.
Which means the boundary line between buyers and sellers is beginning to become clear, too.
And that March 21 is becoming a particularly important date in the future.
Given that the trade deadline is a mere 63 days away, there's no doubt that the deals that will take place in the final hours leading up to it are already in the discussion stage here in mid-January.
Some will happen because of player demands. Some will happen because of onerous contracts.
And some will happen because executives are simply looking to save their jobs.
5. Phil Kessel, RW, Arizona Coyotes
Phil Kessel has done it all, or at least most of it when it comes to the NHL.
He's won a Masterton Trophy for individual exploits, been on two Stanley Cup championship teams, scored 20 goals or more in 12 seasons and scored 34 goals across 96 playoff games.
This means—even at age 34 and in the homestretch of a 16-year career—he's got a lot to offer to a team looking for an experienced, clutch forward that can produce in the clutch.
But something else is just as evident.
His Arizona Coyotes, whose eight wins in 36 games were second-fewest in the league entering Sunday, won't have a whole lot of use for a clutch player anytime soon.
Kessel's desire to play for a contender has been a topic of chatter since the start of this season. Now that the deadline is nearing, it's getting closer to a lock that Arizona GM Bill Armstrong will survey the market and take the best offer he can get for an expiring asset while continuing a desert rebuild.
4. Mark Giordano, D, Seattle Kraken
Where some may be moved out of salary-cap necessity, it's possible Seattle defenseman Mark Giordano could have his tenure with the first-year Kraken cut short by the promise of a strong return.
The 38-year-old was a veteran of nearly 950 games across parts of 15 seasons with the Calgary Flames before the Kraken plucked him in last summer's expansion draft. And he's been a sturdy asset during a difficult season in Seattle, contributing 12 points in 31 games while averaging better than 21 minutes per game.
Still, as valuable as his skill set is to a team trying to establish itself, it's even more coveted by teams hoping to add a final piece or two on the way to a prolonged postseason run in a few months.