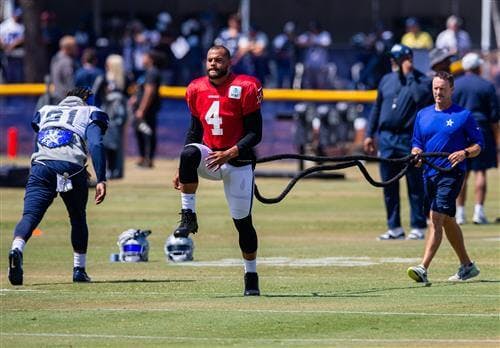 When the Dallas Cowboys decided to take a step back with quarterback Dak Prescott in his recovery from a strained right shoulder it was upon advice from their baseball neighbors in Arlington, the Texas Rangers.
Owner Jerry Jones said the Cowboys consulted with the Rangers because it was an arm injury, a throwing injury and the baseball team has more experience in dealing with those.
"We talked about throwing, arm care and arm recovery," Jones said. "They advised rather than work through a progression on healing but to go cold turkey to make sure the injury is repaired."
That was the genesis of coach Mike McCarthy saying last week that the Cowboys were going to take a step back with Prescott rather have him try to returning to throwing.
Prescott didn't make the trip to Canton, Ohio for the Cowboys preseason opener against the Pittsburgh Steelers to continue getting treatment.