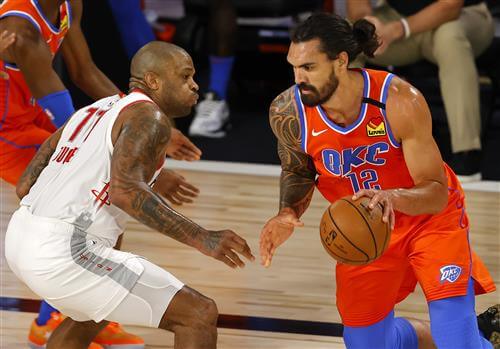 New Orleans and Milwaukee are expanding the Jrue Holiday trade to include more teams and players, including the routing of Steven Adams to the Pelicans, sources told ESPN's Adrian Wojnarowski.
The deal is an expansion of the Jrue Holiday-to-Milwaukee trade that was agreed on earlier in the week. It has evolved into a four-team deal, and sources said it has a lot of moving parts as teams work to finish it.
Adams, 27, is heading to New Orleans in exchange for a protected first-round pick and two future picks, according to sources. The Pelicans picked up a 2023 lottery-protected first-round pick from the Denver Nuggets on draft night for the No. 24 overall selection, RJ Hampton, sources said.
That pick was originally Milwaukee's and one of three first-rounders New Orleans received for Holiday.