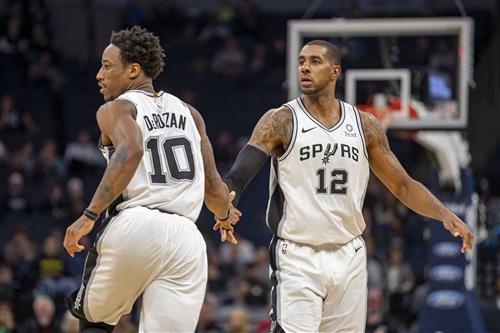 The 2021 NBA trade deadline is just under a month away on March 25, 2021, and that means the rumor mill is starting to churn. While the San Antonio Spurs aren't known for making mid-season moves unless it's requested by the player (a la Nando De Colo) or an offer too good to pass up comes along, they always do their due diligence.
However, this season might be different. The Spurs are facing a nearly unprecedented offseason that could potentially set the projection for the future of the franchise, with all four of their main veterans — LaMarcus Aldridge, DeMar DeRozan, Patty Mills, and Rudy Gay — hitting unrestricted free agency. They're going to have decisions to make on all those players, and that could include seeing if there's a trade market out there to get pieces in return instead of potentially losing them for nothing.
Headlining the trade rumor mill for the Spurs is unsurprisingly Aldridge: the oldest of the bunch and whose potential future with team — both this season and beyond — seems the most unsure. After missing the Bubble following shoulder surgery, he has missed nine games so far this season with knee and hip issues, and while his signature shot is still there, his mobility appears dramatically deteriorated. During his most recent six-game absence, the Spurs flourished with Jakob Poeltl taking over starting center duties, and in their return from a COVID hiatus (and LMA's first game back), he came off the bench for the first time since his rookie season.