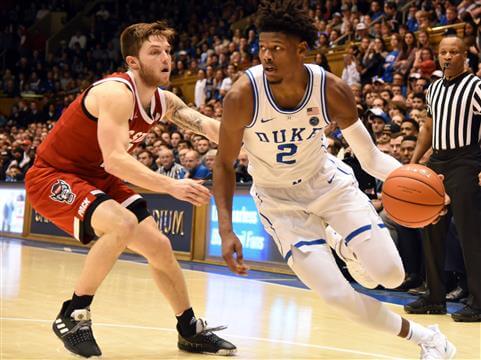 We don't know where the Knicks are going to pick in the 2019 NBA Draft yet, so it's way too early to say who New York may target on draft night. But it's worth noting that some Knicks talent evaluators are fans of Duke forward Cam Reddish, per sources.
Reddish, a 6-foot-8 freshman, averaged 13.5 points on 35 percent shooting last season. The 19-year-old didn't shoot well from beyond the arc, but those in the Knicks' front office who like Reddish see his game translating well to the NBA.
Again, this is not to say that the Knicks will certainly target Reddish if they end up picking fourth or fifth. There is a long way to go between now and when they're on the clock on June 20. But Reddish does have New York talent evaluators who think highly of him.
The Knicks, Phoenix Suns and Cleveland Cavaliers all have a 14 percent chance of landing the No. 1 pick and the chance to select Duke's Zion Williamson in the draft. We will know the order of the draft on May 14 after the NBA Lottery.
Knicks president Steve Mills and GM Scott Perry said on MSG Network's MSG 150 on Monday that the club has prepared all season for different scenarios in the draft.