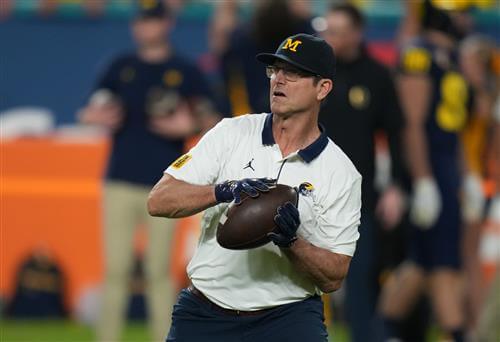 What will Jim Harbaugh do this winter with an NFL head-coaching market wide open? Almost no one knows for certain at this point. But it's worth keeping an eye on the Las Vegas Raiders. Harbaugh, who has a long friendship with owner Mark Davis, started his coaching career with the team in 2003. He also has family ties to Las Vegas, which is where he met his wife.
Multiple sources inside Michigan football told The Athletic this week that they think if Harbaugh is offered the Raiders head coaching job, he'd take it.
They also know that Harbaugh can be hard to read. Their hunches could be wrong — but they also know he's never coached anywhere longer than four years prior to his seven years and running in Ann Arbor. They've each believed that he, at some point, would want to coach in the NFL again.
Is this the right time and the right situation? The Raiders fired general manager Mike Mayock earlier this week. The 58-year-old Harbaugh, who won AP Coach of the Year, is coming off his best season at his alma mater: the Wolverines finally beat archrival Ohio State, won their first Big Ten title in 17 years, and made the College Football Playoff.