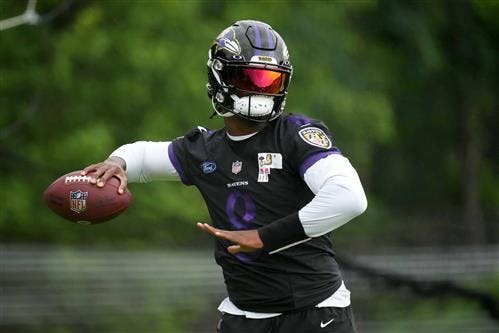 It's looking increasingly unlikely that Lamar Jackson and the Baltimore Ravens will ink a long-term contract.
ESPN's Jeremy Fowler reported people around the NFL are "skeptical" that a deal gets done before Jackson's self-imposed deadline of Week 1.
"Some of the people I'm talking to around the league are a bit skeptical this can get done because there's going to be a gap in guaranteed money," Fowler said Sunday on SportsCenter. "It's believed that Lamar Jackson wants a very strong guarantee structure. And he has a blueprint with Deshaun Watson and what Watson did with a fully-guaranteed $230 million deal. Now, I'm told the Ravens have been trying to bridge the gap in recent weeks ever since that Kyler Murray deal went down in Arizona. That sort of reignited the quarterback market. So, Baltimore certainly is trying, but there is a gap that has to be closed here and they got about three weeks to do it."
Jackson is set to make $23 million this season while playing on the fifth-year option of his rookie contract. Should the Ravens and the 2019 NFL MVP fail to reach an agreement on a long-term deal, it's a mortal lock Baltimore will use its franchise tag on him to ensure he does not hit free agency.