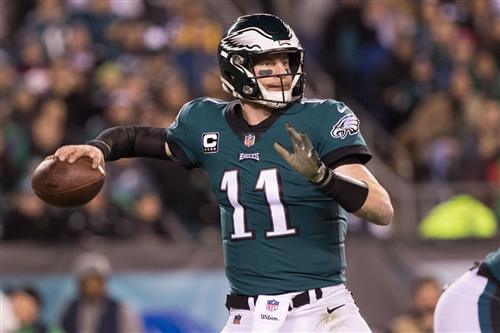 The Philadelphia Eagles have been expressing their commitment to signing Carson Wentz to a long-term deal all offseason, and by the sounds of it, they could have their franchise quarterback locked up before the 2019 season kicks off.
"My belief is that deal will get done at some point this offseason," ESPN's Adam Schefter said this week on 97.5 The Fanatic in Philadelphia. "From everything I've gathered, I think the two sides have begun talking. I think that both sides are motivated to get it done. I don't think they're close right now to getting it done, but when I talk to people around the league who look at that deal, they believe it's going to get done."
That lines up with the signals the Eagles front office has been sending in recent months. Howie Roseman, the executive vice president of football operations, said at the owners meetings in March that "having Carson here long term is our goal" and the organization will "work toward that." Chairman/CEO Jeffrey Lurie added he would "absolutely" be comfortable extending Wentz this year, even though Wentz is coming off two significant injuries and is under contract through 2020.
Why now? What will the contract look like? And is there a way for the Eagles to protect themselves should another major injury occur?