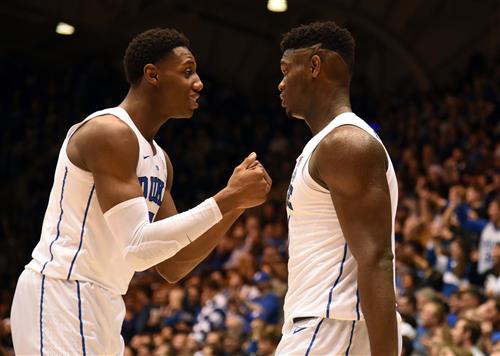 Flip a coin, says Josh Pastner.
The Georgia Tech head coach is torn over who will become the better NBA player of the Duke tandem: Zion Williamson or RJ Barrett.
In fact, Pastner said in talks with NBA personnel, some consider Barrett, the 6-foot-7 swingman from Canada, a better NBA prospect than Williamson.
Of course, Pastner knows reality. No matter what, Williamson, the 6-foot-7, 285-pound lefty, will be the top pick.
"If the Knicks are No. 1, even if you like RJ better, you have to draft [Zion] or the fans will overrun you," Pastner told The Post on Sunday after being honored by the Jewish Heritage Sports Association in a ceremony at Temple Israel in Lawrence, Long Island. "There are some NBA teams I know who like RJ more. They would rather be the No. 2 pick.
"Either one you're getting a potential All-Star. But Zion's marketing/season tickets, you can't turn it down. The former president of the U.S. [Barack Obama] and LeBron [James] weren't going to the game watching Duke. They were watching Zion."
Pastner will start his third season at Georgia Tech after seven seasons as head coach at Memphis, where he succeeded John Calipari. Pastner was Calipari's assistant.
"You're going to pick Zion because of the fanfare," Pastner said. "But I'll tell you, Barrett should be in consideration for the No. 1 pick. Whoever gets two is in a good spot."
That's good news for the Knicks if they don't win the May 14 lottery. The Knicks have a 14 percent shot at No. 1 and 13.4 percent shot at 2.